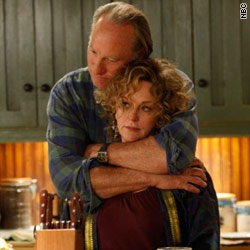 Before I get started, there's good news for those of us who love this show:  NBC is picking it up for a second season! No details yet on how many episodes, but considering the show hadn't been considered a lock until now it's great news.
This was not a happy, fun episode.  That's not to say it wasn't good one, it just had fewer laughs than previous shows. What there was more of was Zeke and Camille Braverman (Craig T. Nelson and Bonnie Bedelia).
Until now we've gotten glimpses of the oldest Braverman couple, and hints there's something going on with them.  We did't get all the answers in this one, but we did get to see more of what the couple is like on their own.
First, we see Zeke getting more involved in granddaughter Amber's situation.  She's still acting out, acting up, whatever you want to call it.  Sarah catches Amber in the shower with her boyfriend, Damien the demon seed.  Sarah tries to apologize for going out with the English teacher.
She tries to explain how she moved them out of Fresno to get her in a better place.  She says she doesn't want Amber to make the same mistakes she made.  In a heartbreaking admission, poor Amber says every time she hears that, all she hears is that her existence is a mistake.
While that's going on, Zeke goes out to talk to (ok, threaten) the boyfriend, who for some crazy reason is still parked outside the house.  Zeke is calmly telling him to leave, not come back or else.  The kid is a piece of work.  He blathers about being a student of philosophy, live and let live.  Zeke responds with the line of the week: "I am an irrational hard-a** with rage issues. Don't piss me off."
Amber finally does send the boyfriend back to Fresno.  While they're out on a date, she starts to see maybe he's not everything she thought he was, including smart.
Crosby and Jasmine are trying to plan Jabbar's party together.  She's still copping a major 'tude.  She hadn't planned on inviting any of Crosby's family.  He finally calls her on not telling him about Jabbar, then complaining he wasn't there for her.
She admits she let her family think Crosby blew off his kid.  Just unbelievable.  First she keeps the guy from his kid, then she lets her family think it's all his fault.  At the party they all give him the cold shoulder, and that's putting it nicely.  Jasmine's brother goes off on Crosby and to Crosby's credit, he doesn't tell Jasmine's secret.  Once Zeke and Jasmine's mother (Tina Lifford, who is great in everything she's in) chime in, Jasmine finally fesses up.  They might be on their way to a better, grown-up relationship.
Julia and Joel go to see Sydney's teacher who tells them their little girl has been fixated on a ball she made from rubber bands.  When they get home, she talks about how she's counted up all the rubber bands and the colors, and it scares Julia.  She thinks maybe Sydney has Asperger's like Max.
Julia goes to ask her sister-in-law what signs she saw in Max.  Kristina refers her to Max's doctor but admits to Adam later she was happy to think Sydney was the same as Max.  Neither one of them likes to think of Max, or themselves, isolated from the family.
It turns out Sydney doesn't have a disorder, she's gifted and bored.  You can almost feel how relieved Julia and Joel are to hear that.  You also know how hard it is for her to tell Kristina that Sydney is fine.
I'm still loving this show, probably more now after seeing how they handle serious issues without resorting to jokes.  What do you think?  Do you like the show more drama-heavy or comedy-heavy?  Let us know what you think!