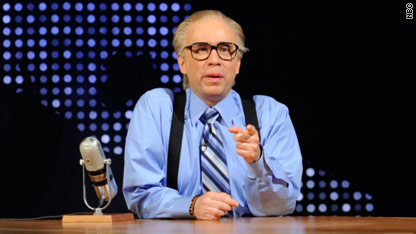 This past weekend, I was lucky enough to get tickets to see "Saturday Night Live" –- in person. I was ecstatic because I started watching the show back in junior high (Bill Clinton was running for his first term as president at the time) and I have always been a huge fan.
When I arrived at the 30 Rock building, I was quickly led up the elevators and out into the studio hallway that is wallpapered with matted, framed shots capturing moments from throughout SNL's 35-year history. There are also old costumes encased in glass.
Due to sparse seating capacity - along with the fact that only 20 episodes are produced per season - tickets to SNL have always been hard to come by. I was in the balcony, directly across from the stage where the musical guests perform and basically had a bird's eye perspective of Studio 8H.
It was fun to watch the carpenters and prop masters expertly put together and break-down the sets. For a second, I thought I was at work when I spotted a replica of the familiar "Larry King Live" backdrop, with its Lite Brite-esque dotted world map.
Before the show began, the band practiced a bit, and legendary SNL announcer Don Pardo took the microphone to tell warm-up jokes. He then handed the mike over to cast member Jason Sudeikis, who made jokes/safety announcements ("WHEN the building catches fire, grab some memorabilia and head out the exits in back and to your left.")
Next, cast member Keenan Thompson came out and sang the Elton John classic "Saturday Night's Alright for Fighting" - along with SNL featured players Abby Elliott, Jenny Slate and Nasim Pedrad as backup singers/dancers. Other celebrity sightings included cast member Fred Armisen and writer Jim Downey, who were spotted in the hall graciously posing for photos with fans. I also saw musical guest Ke$ha practicing her dance moves.
Finally, it was time to start the show. After a cold-open featuring a "Larry King Live" spoof, host Ryan Philippe gave his monologue. The way everything was situated gave me a phenomenal view of certain sketches, for others I had to crane my neck just to get a slight glimpse (but luckily there were large flat-screen monitors overhead so not a moment was missed).
Unlike the early Belushi-era purists, I believe that the Phil Hartman/Dana Carvey seasons of the late 80s-early 90s were the funniest. Maybe it's because I discovered the program during those years.
My dear friend and I still laugh about (and quote) this one particular skit from an episode hosted by John Goodman in 1993. It was called "The Man without a Shout." Goodman and his buddies were skiing when Goodman went to the ski chalet to grab lunch. Delighted by the fact that the chalet was serving seasoned curly French fries, he ran out to the mountain and shouted down to his friends:
"Hey guys! This is great! They have spicy curly fries!"
Unfortunately Goodman's shout triggered an avalanche and his friends were killed. Thus, he became "The Man without a Shout."
My friend and I - who taped SNL religiously back then - watched it over and over. We quoted it, and tortured our parents in public by screaming out the lines. We even attempted to reenact it multiple times that winter on ski trips.
I have not been able to locate this brilliant skit on Hulu, YouTube or anywhere. Maybe I should leave well enough alone. Perhaps it won't be as magical as I remember it.
What about you? Do you have a favorite SNL skit, character, cast member, or era?