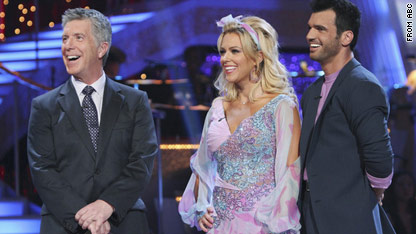 testing captions
Kate Gosselin, one of the most talked-about contestants in the history of "Dancing With the Stars," was kicked off the show Tuesday night after weeks of drama and not-so-great performances that riled up fans.
Say what you will about Gosselin's dancing - which often looked more like walking and which the judges described as "catatonic," "odd" and "hard to watch" at various points of the competition - she boosted the show's ratings and kept trying despite overwhelming criticism.
In a departure from previous results shows, when producers kept Gosselin's fate in limbo until the very end of the hour, she and professional partner Tony Dovolani were declared to be in the "bottom two" in the first few minutes.
In a bit of a surprise, actress Pamela Anderson later joined them in the dreaded red spotlight. Both women then had to endure very tight, long camera close-ups that clearly showed their nerves before Gosselin's name was finally announced as the celebrity who would be going home.
It was an emotional exit for Gosselin, who began to cry as soon as she began her farewell interview with co-hosts Tom Bergeron and Brooke Burke. At first, she couldn't talk, so her professional partner Tony Dovolani stepped in.
"I'm very proud of Kate," Dovolani said. "I thought you danced beautifully, you showed America that it doesn't matter how much things go against you –- you still come out here and give it your best."
When she regained her composure, Gosselin said she had a gut feeling this would be the night she would be eliminated.
"I'm very, very honored to have been here," she said. "I had a wonderful teacher."
She also thanked the fans who voted for her and kept her in the show, despite low scores from the judges.
"I was scared to death most of the time," Gosselin added.
In a sign of just how much interest there was in Gosselin's exit, the producers skipped the usual prepared montage of clips always shown when eliminated celebrities say their goodbyes and kept talking to her for several minutes. It was probably the most likable and accessible she's been since the start of the competition.
Then, Gosselin and Dovolani hugged, she did her "heart" gesture to the camera and she was gone.
What did you think of the show?