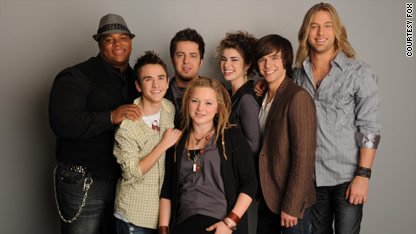 testing captions
SPOILER ALERT!!! Tonight's blog entry will reveal the contestant being sent home from "American Idol." Don't read any further if you don't want to know the results.
10:21 p.m. –We are back to the bottom three, though it's been so long I almost forgot it was Casey, Aaron and Tim.
First to be declared safe is...Aaron.
That leaves us with Casey and Tim and the person going home is:
TIM URBAN!
I never thought I'd see this day.
10:09 p.m. – I was wondering when we would get to Sir Elton John.
Queen Latifah goes crazy over him and he sings "Your Song." Love his big red piano and the footage playing behind him.
Classic clip: Morgan Freeman attempting to work a hula hoop!
10:01 p.m. – Simon Cowell is in Arizona. He hangs out with "Dr. John" who offers health care via a mobile unit.
I tear up again when the little kids hold up the "thank you Idol" signs. Simon announces that since the show has been on air, they have raised $15 million.
Awesomeness.
9:57 p.m. –Mary J. Blige and the All-Star Band perform "Stairway to Heaven."
I like Mary J., but she could have ditched the huge sunglasses. I'm sure it's not that bright on stage.
Cool to see Randy Jackson up there playing. I love Travis Barker on the drums any time I can get it and Orianthi is the truth on the electric guitar.
They are jamming!
9:42 p.m. – I need more warning when we are going to shift into footage of a 7-year-old African girl sick with AIDS.
As my friend (and fellow blogger) Sarah pointed out, it's hard to keep your footing with "Idol Gives Back" when one minute you are grooving to a performance, the next you are struck by pitiful images and then you are back to the results.
Powerful video package with and performance by Annie Lenox. Pity she missed coming over because of the volcanic ash.
9:34 p.m. –David Cook takes us to Ethiopia and he really connects with the young girls at a local school who have some rough backgrounds.  Great to see him singing to them and getting choked up over how they deserve a chance.
This year's "Idol Gives Back" is covering a lot of bases of need.
9:32 p.m. –We continue on with results and Siobhan Magnus, "Big Mike" Lynche and Tim Urban are called to the center of the stage.
Siobhan is safe and that leaves Mike and Tim. After a few tense seconds Mike is safe!
So Tim rounds out our bottom three. Yeah, we've been here before.
9:25 p.m.- Hello Bill and Melinda Gates.
I add you both to the list of "just about everyone and their mama" who are popping up tonight.
Wanda Sykes shows up to do some stand up. She's killing the judges and gets some good material in about how the show makes the departing contestants sing. I never got that either.
9:16 p.m. – Ellen DeGeneres and actor David Arquette are off to help feed people in California.
So poignant that they feature a family where the dad is a math teacher. Great to focus on struggling, working-class families.
Seacrest lets us know that the show will run late tonight.
9:10 p.m. – Ok, "Idol Gives Back" has officially gone off the rails for me.
They actually had Nadya "Octomom" Suleman and some kids in the continuing bit about the celebrity phone bank. Wow. Really?
Good to see Slash and Jim Carey playing along. Carrie Underwood hits the stage and she is just about the best star that has ever come out of this show.  She, Kelly Clarkson, Clay Aiken, Jennifer Hudson and Chris Daughtry are just a few of the former "Idol" contestants who always deliver a great performance.
Carrie is giving 36 cents of her ticket sales to Save the Children. That's nice.
9:00 p.m. – Yay Alicia Keys! She sings "Unthinkable" and I notice that she is looking a tad bit thicker than before. Uh, uh, I can only imagine the comments that are going to be flying about that.
When she launches into "Empire State of Mind" I am so hoping Jay Z pops up, but he doesn't.
Oh well.
8:54 p.m. – WTH is Morgan Freeman doing on "Idol?"
Wow, they have really pulled out all the stops. Mr. Freeman (can't bring myself to call him "Morgan") and Randy Jackson spent some time in a poverty stricken community in Mr. Freeman's home state of Mississippi.
The mother of the family they meet is shocked to see Morgan Freeman too! She even starts crying.
Love this literacy program and the focus on exercise to battle childhood obesity. There is wonderful work being done out there.
8:45p.m. – Joss Stone sings the mess out of "I Put A Spell On You."
For a young British chick, she's got an old soul. I enjoyed her and Jeff Beck's performance. And since it ain't a big "Idol" production without a choir, there is one.
Then we are back to the touching footage. I can't take the African orphan babies. Stop making me cry "Idol!"
8:42 p.m. – All jokes aside, we now have some results info.
Crystal Bowersox and Casey James are asked to come to the center of the stage. Neither has been in the bottom three before, but one of them is in the bottom this week.
No shocker here, Casey is in the bottom three.
Next up are Aaron Kelly and Lee Dewyze. Can you guess who is safe here?
Yes, Lee is safe and Aaron heads to join Casey in the bottom three.
8:34 p.m. – George Lopez is so crazy!
The joke is he "won" the opportunity to host "Idol" through an auction for "Idol Gives Back" and he cracks jokes on Danny Gokey's eyesight and Seacrests height.
He decides to "judge the judges" and Kara looks confused. Randy gets teased for saying "pitchy" and "dawg" too much but he gets to stay because he's "the only brother on the show."
Funny jokes about Kara (who he calls "Karla") and her penchant for the cute guys on the show. She's safe as is Ellen DeGeneres whose also looks like she's not as amused.
Ouch! Did Lopez really ask Simon Cowell "saline or silicone?" They are really trying to fill some time here.
8:27 p.m. – Seacrest went to Kenya to see first hand the ravages of malaria.
Queen Latifa warned that the footage would be hard to watch and she was so correct. Watching the young pregnant woman in Uganda dying and seeing that family's grief was rough. All because of a mosquito bite which resulted in malaria.
So sad.
8:22 p.m. – Wow. I like the Black Eyed Peas so much better when they are not performing live.
Their "Rock That Body" sounds way better over the ear buds than it does tonight. And what is up with the robot clad back up dancers? They scare me.
The folks at the Pasadena location look like they are jamming though. Maybe they are entranced with Fergie's Beyonce style costume?
And there are rapper Common and actor Todd Bridges in the audience. Who isn't at this thing tonight?
8:18 p.m. – Capt. Sully is back!
He was in the audience last night. Nice tie Capt. Sully.
We get into the silly overdrive with a bit from comic Russell Brand and comedic actor Jonah Hill who allegedly arranged a celebrity phone bank to answer the "Idol Gives Back" contribution calls. Of course no one is there.
It's business as usual for the Top 17 who are over in those dreaded seats awaiting their fate. Seems cruel to make them wait for two hours.
8:04 p.m. – Nice to see that Simon dressed for the occasion and ditched that black t-shirt.
We get a glimpse of co-host, Queen Latifa, over at the Pasadena location and she keeps the crowd amped up. Oh Lord, that means Seacrest is going to feel compelled to boost his energy also. This should be interesting.
The Top 12 are back, dressed angelically in all white. They are "Keeping the Dream Alive." Very nice.
8:09 p.m. – I'm a big old crybaby and I can already tell that tonight is going to work me over big time.
Just a few minutes into actress Jennifer Garner visiting a poor family of six in rural America and I am touched. Jen is totally moved visiting the local elementary school. I heart me some Mrs. Affleck.
Victoria Beckham is back to share what she has learned visiting Kentucky along with two young people who have benefited  from a program for disadvantaged youth. How exciting if must be for them to be on stage in front of millions of "Idol" viewers.
They actually look more relaxed than the former Spice Girl.