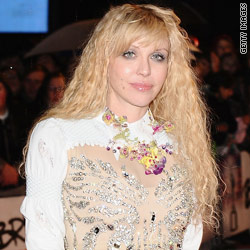 Courtney Love has announced that from here on out, she would like to be known as Courtney Michelle, because the Courtney Love as we knew her is dead, according to the BBC.
The Hole front woman, who was born Courtney Michelle Harrison, revealed her desire for a name change in N.M.E. magazine. "We've all decided we don't like her anymore," she told the music pub. "Courtney Love is a way to oppress me."
The singer also delved into how lonely she's been since she lost custody of her 17-year-old daughter, Frances Bean Cobain.
"I am so alone, it's freaky," she told the music magazine. "I'm ultimately a widow and a single mother, and I'm not even a mother anymore."
She also opened up on fielding queries about her ex-husband Kurt Cobain more than a decade after his death.
"I am not his spokesperson on Earth," she said. "I don't know what he'd be like now, he could be into society girls, he could be into fat girls, he could be homosexual. We don't know, he died at 27."
Michelle is currently touring with Hole; the band will release an album, "Nobody's Daughter," on April 27.