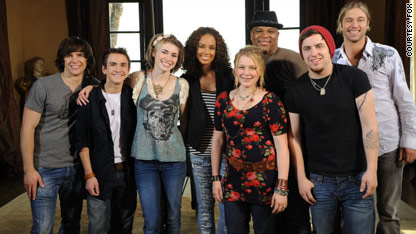 testing captions
I can only pray that the "American Idol" Top 7 find some inspiration tonight.
The gang will be mentored Tuesday night by Alicia Keys, who will help guide them through the week's theme: inspirational music.
Now, that could mean just about anything - from gospel to a song that just moves you - so I am anxious to see what MamaSox and the gang come up with. Because, honestly, at this point isn't that really how we are thinking of them now?
Speaking of Crystal "MamaSox" Bowersox, PEOPLE is reporting that she will be performing tonight sans any instrument.  No guitar, no piano. Given her soulful renditions in the past, I have high expectations.
I am also looking forward to Ms. Keys as a mentor. Given her musical talent and years in the business, I expect that she will offer great advice in terms of performance.
As we get closer to the finals, everyone is going to really have to step up their game!