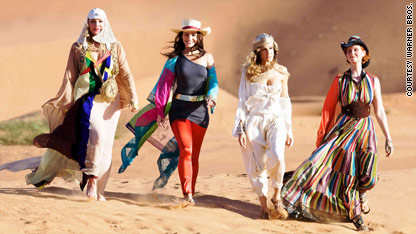 Get them while they're hot: Tickets to 'Sex and the City 2' are already selling weeks before the May 27 release, according to the Hollywood Reporter.
Since tickets went on sale Wednesday at Regal Cinemas locations, they've been "nearly 20 percent of our daily sales when it first went on sale, outpacing 'Kick-Ass,' which was 17 percent of sales," Fandango spokesman Harry Medved told the entertainment trade publication. A Warner Bros. exec said he'd describe the sales as "brisk."
Regal is taking advantage of what will presumably be a girls night out, if 2008's blockbuster 'Sex and the City' serves as any indication. The movie grossed more than $415 million at the box office worldwide, and industry experts are expecting the sequel to do even better.
"Based on our experience with the first film, this can become quite an elaborate and fun-filled evening," Dick Westerling of Regal Cinema marketing told THR. "Women across the country are anxious to plan events and activities related to their evening out to see the film, and they want confirmation that they have tickets."