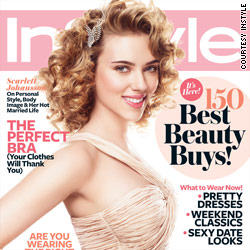 Don't look for Scarlett Johansson to come stumbling out of any club hotspots.
The actress appears on the cover of the May issue of InStyle Magazine and tells the publication that she is not much of a party girl.
"You're not going to find me at 4 a.m. hitting up the club, bottle full of bub …," Johansson said. "Maybe on a rare occasion. But I've just never been much of a clubby, nightlife kind of person."
Yes, she has many contemporaries who are often caught tripping the light fantastic at all hours, but Johansson contends she is more low-key than that.
"I'm not a social butterfly," she said. "I've never been part of a scandal that was really juicy."
Johansson appears in the upcoming film "Iron Man 2" opposite Robert Downey Jr.