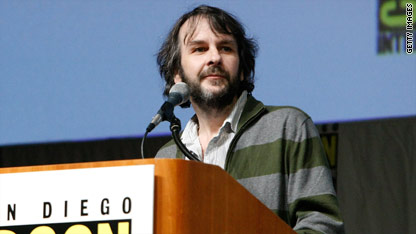 testing captions
Peter Jackson is nothing if not busy.
Aside from promoting "The Lovely Bones," which came out on video Tuesday, the "Lord of the Rings" director is neck-deep in several other films - Steven Spielberg's "The Adventures of Tintin," for which he's a producer; "Halo," a long-gestating project he's executive-producing; and "The Hobbit," from the J.R.R. Tolkien book that set up "The Lord of the Rings."
Rumors have swirled around the latter, from its casting - will Ian McKellen return as Gandalf? who's going to play Bilbo Baggins? - to its timing (what's taking so long?). Jackson cleared up some of the mysteries in an interview with Moviefone.com.
First of all, he observed, the film has never officially been given a green light. "The studio [MGM] has never greenlit 'The Hobbit,' so therefore 'The Hobbit' has never been officially announced as a 'go' project, nor have we ever announced a date," he said. "But there's so much interest that people - newspapers and magazines, of their own account, say, ah, it's likely to film in May, it's likely to film in June, it's likely to film in September. People make this stuff up. And then if it's not filming in June, you get a story saying, ' "The Hobbit's" been delayed.' But it's never actually been announced."
The initial version of the scripts - the film will be in two parts - was just finished, he said, and he's "pretty optimistic" shooting will begin before the end of the year.
As for the actors, nothing can happen until the studio gives its go-ahead, he said.
"We've done a little bit of auditioning, but we haven't really done any meetings with actors or anything yet. We've just been totally committed to the scripts. Everything's a little bit later than what people assume it is. I think people think we've been sort of doing secret casting," he said. They'd like to use some of the actors from the "Rings" films, but won't move forward until the studio signs on. (Previously, Jackson said some of the actors would be returning.)
"The Hobbit" has been hobbled by several issues, including a 2006 dispute between Jackson's production company and New Line, the studio that bankrolled "The Lord of the Rings." The disagreement was settled in late 2007. (New Line, parent studio Warner Bros. and CNN are all part of the same company, Time Warner.) In 2008, the Tolkien estate sued New Line over alleged unpaid fees. The suit was settled last year. And MGM is currently on the selling block.
Guillermo del Toro will direct both "Hobbit" films.