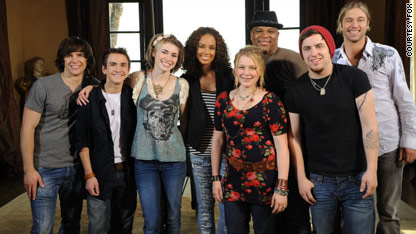 testing captions
8:55 p.m. – As with Alicia Keys, Crystal Bowersox is one of my favorites this season.
Aww, heck. Who am I kidding? MamaSox is my favorite.
Her version of "People Get Ready" was practically flawless. No instrument, just her incredible voice. She is overcome with emotion and can't finish the song for crying.
She explains that she was so moved by seeing her Dad in the audience. She really loves her PapaSox.
Finally, someone has a moment on this show. I swear this chick can do no wrong.
8:47 p.m. –I love that "Big Mike" put together a list of songs over the years that he wanted to sing on "Idol."
He's cocky, but he's good. He TORE IT UP on "Hero." He did what I kept waiting for Andrew Garcia to do. Take a song, flip it and knock it out of the park.
Say what you will about "Big Mike," but I think he knows who he is and when he stays in his lane he's a contender. Who cares if the song is about Spiderman? I loved it!
8:37 p.m. –You have got to have some serious guts to take on Whitney Houston and Mariah Carey at the same time.
Kudos to Siobhan Magnus for even attempting it on "When You Believe." Alicia gives her good advice about her "money spot" with her upper register.
For me, there is something just off with Siobhan. Her voice isn't bad and for once she didn't screech us to death. But the performance just fell flat to me. Even her speaking voice when she gives her long-winded explanations as to why she chose the song is starting to bug me.
And what was up with the nature girl/forest nymph outfit with the butterflies attached?
8:28 p.m. – It was only a matter of time before someone pulled out R. Kelly's "I Believe I Can Fly," and Aaron Kelly is that one.
I have seen this song sung at more graduations than I care to remember, and at first, I think that's what Aaron's going to give us. But somewhere along the way, Aaron started really bringing it home.
I forgot that youngster has such pipes. It was a little bit country and a little bit more pop. Not too shabby.
And sure enough, Aaron says he sang it at a preschool graduation. How precious A. Kelly!
8:22 p.m. – Wow. Capt. "Sully" Sullenberger is in the audience. Who knew the hero was an "Idol" fan?
Tim "Turban" Urban sings the Goo Goo Dolls "Better Days." The lead singer for that group is cute, too, but that's about all Tim has in common with him.
It was not a great performance and yet Tim just keeps smiling. As always.
8:13 p.m. – Why does Ryan Seacrest always have to mention that Lee Dewyze used to sell paint?
He chooses to perform the classic Simon & Garfunkel song, "The Boxer." Not what I would have expected from him and while it wasn't bad, it may not have been the best choice for him though the judges dug it.
We need more excitement from Lee, and this song didn't quite showcase that for him. Kara thought he had a "moment." but I didn't feel it that strongly.
I did like it though. Actually, when I closed my eyes, I could swear I heard a little bit of "Counting Crows" in there.  Lee has a ton of fans this season, and I suspect they loved that performance.
8:03 p.m. – Alicia Keys is the hotness. No doubt.
Good Lord, "Big Mike" Lynche lifted her in the air. We so didn't see that coming (massive eye roll).
Casey James leads us off with Fleetwood Mac's "Don't Stop Thinking About Tomorrow." Right off the bat, Alicia says he is going to need to bring some personality. Hasn't that been everyone's advice so far this season? Translation: You guys are somewhat boring.
I liked the performance, but I agree with Randy that Casey did this week exactly what he did last week. Nice playing on the guitar and he rocked it. Simon thought it wasn't inspiring and a "lazy song choice."
Stop dissing our cutie Casey!