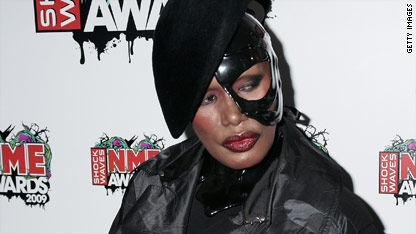 Cultural icon Grace Jones doesn't work with other artists as a personal rule, and that includes Lady Gaga, she told the U.K.'s The Guardian.
"I've seen some things she's worn that I've worn, and that does kind of piss me off," Jones said, but she added, "I really don't think of her at all. I go about my business."
Although the "Bad Romance" provocateur asked to collaborate with Jones, the 61-year-old explained she turned her down because she'd "just prefer to work with someone who is more original and someone who is not copying me, actually," Jones said.
She's not the first artist to complain of Gaga being a copycat.
In music magazine N.M.E.'s April 7 issue, M.I.A. took Gaga to task for sounding more like her than she does herself.
"People say we're similar, that we both mix all these things in the pot and spit them out differently, but she spits it out exactly the same," M.I.A. said. "None of her music's reflective of how weird she wants to be or thinks she is."
To M.I.A., Gaga "models herself on Grace Jones and Madonna but the music sounds like 20 year-old Ibiza disco. She's not progressive, but she's a good mimic. She sounds more like me than I [expletive] do! That's a talent… but she's the industry's last stab at making itself important."