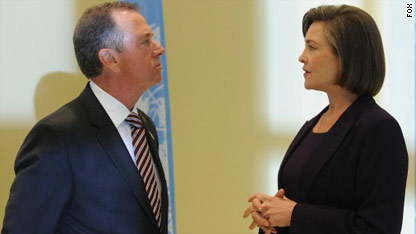 Spoiler alert: You know the drill. If you haven't seen this week's episode of "24," don't read any further!
24: Day 8 - 9 to 10 a.m.
With another episode of "24" in the books, we need to discuss my condition. Since last night's show, I've been experiencing edginess, impatience and angst. I'm pretty sure this can't be normal, and I'm pretty sure it has something to do with the way things went down.
I believe I'm suffering from some sort of "acute Bauer-citis" where I constantly seek action-packed intensity from every passing moment of the show. As a result of the condition, if I don't receive the "rock em' sock em' thrill-ride-kind-of-fix" for sixty minutes each Monday night, I suffer from the symptoms, and I'll have a bad day at the office on Tuesday (co-workers, you have been warned).
By my count, every episode since early March has been pretty good to great, and the streak stood at about five shows. Subsequently, its become a habit to expect the "action rush" and I'm admitting that on this blog.
(By the way, I googled "acute Bauer-citis", but found nothing.)
Well, the streak is over. Last night's show was decent, but it certainly did NOT give me the action I was seeking. There were some interesting moments here and there, but I felt like the episode started slow, and ended just a bit faster than "kind of slow." As I watched, I did realize that we have reached another critical, story-building spot in the season's evolving layout. I need to remain respectful of that fact, and I'll do my best to do so. I can beat this.
As I saw it, one definite high point in the show was Sergei Bazhaev uttering the words "Dana Walsh" after Jack confronted him for information on Renee's murder. There were certainly fist pumps and high-fives all around on that one, and we know why. This was victory for those of us wanting to see Dana suffer, and since Jack is currently a big ball of rage, we knew some fun was in store.
Spoken aloud by me: "What's that, Chloe? Jack's on his way back to CTU to 'talk' to Dana Walsh? Awesome!"
Other keen moments in the show came via former President Logan. I thought his dialogue and delivery were attention-grabbing and intense. One "grabber" was the camera angle as he chided Novakovich to get in line with the peace accord (you talking to me?), and his "Caesar" quote to President Taylor was a memorable line.
As we have discussed before, I can tell Gregory Itzin (who plays Logan) is doing something right on the show because my serious disdain for this guy perks up, wags its tail and grabs the leash whenever he's on screen.
Nicely done, Mr. Itzin. It's no surprise he was nominated for an Emmy for his work on "24" in 2006. Coincidentally, today (April 20) is ACTUALLY Itzin's birthday, so feel free to impress your friends with that tidbit as you tell your "Ewww...I hate Logan" story at the water cooler.
Meanwhile, President Taylor provided some sparks with her questionable stance. I was cheering after she took the hard line with Weiss and General Brucker, only to find myself booing as she caved this week knowing the Russians had ZERO interest in peace. The inexplicable 180 reached its apex with her passionate plea to Jack to "stand down" and that scene was very compelling. He wants justice. She wants peace. I want an answer. President Taylor, what the heck?
By the end of the hour, I knew "something" would happen, but I did NOT think it would be Jack stealing the helicopter.
I thought the show was a good one, but I did NOT have that familiar, exhausted feeling. All I could think as the show ended was "hurry up next week." After all, the sooner next week gets here, the sooner I can keep it moving.
Looks like things will pick back up, and I can cure this ailment. Stay tuned.
Loved, kinda liked, or hated the show? Let us know!