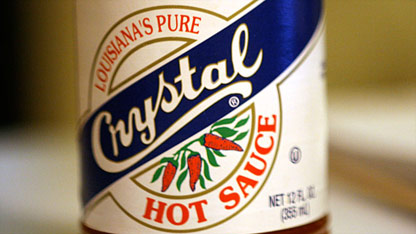 Chicken made an appearance in the second episode of "Treme," but it was definitely not on the menu.
New Orleans musician Coco Robicheaux conducted a chicken sacrifice to kick off this episode of David Simon's HBO drama.
"Are we entering some sacrificial realm here?" Steve Zahn's character Davis McAlery asks Robicheaux, who's confidently stroking the neck of the rooster with a knife. "Why don't you play the next cut on that CD as I summon the spirits?" Robicheaux tells the deejay. A blood stain on the wall after the opening credits alludes to what's become of the bird.
While there were no magic pies in the second episode of "Treme," New Orleans products made cameos - namely Crystal Hot Sauce, which graced the kitchen counter of trombone player Antoine Batiste as well as the bar of Gigi's Place, the haunt owned by Batiste's ex-wife.
Baumer Foods, which makes Crystal Hot Sauce, was flooded out of its New Orleans factory by Hurricane Katrina. It had to move production of "No. 1 hot sauce of Louisiana" out of state for 18 months. It resumed production in Louisiana in February 2007, after reopening the plant upriver to a town called Reserve.
Hot sauce helps chef Janette DeSautel stomach the scrambled eggs she burns while cooking on a hot plate in the second floor of her ruined house. As "This American Life" contributor Cheryl Wagner documents in her memoir about post-Hurricane Katrina New Orleans, "Plenty Enough Suck to Go Around," second-floor camp stoves were a common thing in those months after Katrina, used to heat up ramen noodles and whatever else locals could smuggle in to their ruined city.
Here's a guide to the local products in episode two of "Treme":
Bunny Bread This white bread - locally made in New Orleans - has been a city favorite since 1966. Its New Orleans plant was closed from late August to early December 2005 because of Hurricane Katrina.
Crystal Hot Sauce Flooding forced Baumer Foods to move production of this New Orleans hot sauce out of state following the hurricane. A new factory opened 18 months later in neighboring St. John the Baptist Parish. Crystal is milder than that other Louisiana hot sauce – Tabasco – and the Baumer Foods sign is a familiar site along the I-10 corridor in New Orleans.
Community Coffee Here is a coffee so beloved that one Katrina evacuee in Houston bought out a grocery store's supply and offered free cups of the coffee to other evacuees in the Astrodome in the weeks following the storm. The Baton Rouge-based company donated coffee to Katrina's first responders.
Finn McCool's Irish Pub Not a product per se, this Irish pub in Mid-City New Orleans gets a shout-out via T-shirt in the second episode. The pub was inspiration for Stephen Rea's Katrina memoir "Finn McCool's Football Club: The Birth, Death and Resurrection of a Pub Soccer Team in the City of the Dead."
Steen's Cane Syrup Steen's Cane Syrup is Louisiana's hardcore answer to maple syrup. This Abbeville, Louisiana, company has been making 100 Percent Pure Cane Syrup since 1910. When Janette DeSautel's sous chef presents her father with a sweet potato pecan tart sweetened with Steen's, you know DeSautel means business. Use it to make pain perdu, or if you're really brave, drizzle it on your pancakes.