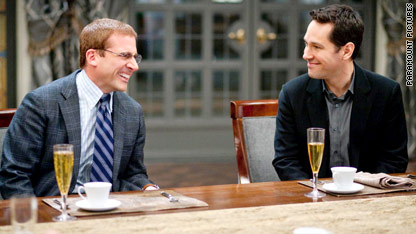 Every now and then a couple of trailers come out at the same time that seem to share a common theme. This week, two such videos grabbed my attention. Both are for movies that hope to entertain fans with the bumbling antics of a mismatched male comedic duo.
First, there's Will Ferrell and Mark Wahlberg in "The Other Guys." The A-list pair stars as unlikely New York detectives determined to mimic the heroism and machismo of another, much more revered, NYPD duo played by Samuel L. Jackson and Dwayne "The Rock" Johnson. A highlight for me came during one moment in the trailer when Wahlberg simply can't believe that Will Ferrell's character is married to Eva Mendes.
The other film is called "Dinner for Schmucks." It stars Steve Carell and Paul Rudd and is directed by "Meet the Parents" and "Austin Powers" director, Jay Roach.
In the film, Rudd's character is confronted with a moral dilemma. In an effort to get a promotion at work he must find a guest for his boss's monthly mean-spirited get-together, a so-called "dinner for idiots." When Carell enters the picture, it would seem Rudd has found the perfect "schmuck" for the occasion.
Both films, "The Other Guys" and "Dinner for Schmucks," seem to play to their stars' strong sense of humor and comedic timing. Audiences can find out which film they prefer this summer - "Schmucks" hits theaters July 23 and "Guys" debuts two weeks later on August 6.