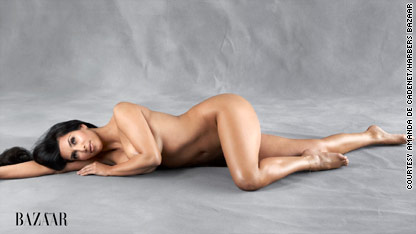 Actress Joy Bryant and Kim Kardashian are the latest to disrobe for a nude photo spread, but these images will hit newsstands without any retouching.
The celebs revealed their "naked truths" for the May issue of Harper's Bazaar, exposing their figures as well as their philosophies about body confidence.
Kardashian, whose posterior is just as famous (if not more so) than she is, told the fashion magazine that she doesn't understand all the fuss.
"I don't get why everyone is always going on about my butt," she said in the interview. "I'm Armenian. It's normal. My butt is probably not as big as you might think, because I have small legs and a small waist, which makes it appear bigger."
Her breast size was also a point of contention for Kardashian, especially when she was younger. "I was wearing a C cup by the time I was 11. I would go to bed and pray, 'Please, Lord, don't let my boobs grow any bigger.' I hated what was happening," Kardashian said.
Now, however, the E! reality show star embraces her shape. "I feel proud if young girls look up to me and say, 'I'm curvy, and I'm proud of it now,'" she said.
Joy Bryant hopes that her nude photo spread will inspire women to stop being so critical of themselves.
"Women are the harshest critics of other women. There needs to be a greater acceptance individually and collectively or nothing's ever going to change," Bryant said. "You'll never be thin enough, blonde enough, black enough. So enough is enough."