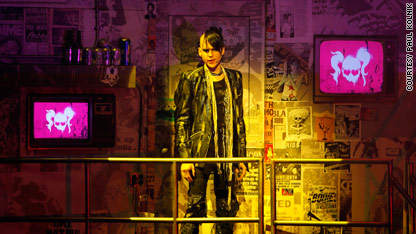 Punk rock is coming to Broadway. On April 20, the musical "American Idiot" opens at St. James Theatre.
The production is built lyric-by-lyric upon Green Day's 2004 Grammy Award winning album of the same name. "American Idiot" features 24 young actors singing and dancing their way through ambivalence, rebellion and drug abuse. With a set that seems to hit the roof of the theater and television screens everywhere, the show pulls no punches. Images of President George W. Bush, 9/11 symbolism, and the war in Iraq are all part of "American Idiot."
So is Tony Award winner John Gallagher Jr., who plays Jesus of Suburbia, or Johnny. Johnny and his two friends Will and Tunny are disenfranchised small-town lads unhappily searching for something better. The better for Johnny turns out to be a girl called "Whatsername" and a drug dealer named "St. Jimmy."
This is not "Mary Poppins," - we're talking rock opera, or punk rock opera if you prefer.
As a band, Green Day has comfortably sat in the punk rock spotlight since their formation in 1987, and that history is made blindingly clear as the cast rages on stage through 95 minutes of the Green Day songbook with high octane angst. The lead in this production is definitely the music.
All 13 tracks from the "American Idiot" album are performed in the musical as well as some songs from the band's latest release "21st Century Breakdown," including "21 Guns."
Green Day front man Billie Joe Armstrong wrote the book for the musical with director Michael Mayer, who won the Tony Award for directing "Spring Awakening."
This "American Idiot" is clever, though it goes light on the dialogue and heavy on the music. The narrative clearly relies upon what was going on in Armstrong's head when he wrote the lyrics for these songs. And it works where a punk rock musical with lengthy soliloquies probably wouldn't.
While Green Day themselves do not perform in the show, there is an eight-piece band on stage that does, and they're quite impressive. This is no garage band - after all, this is Green Day on Broadway.