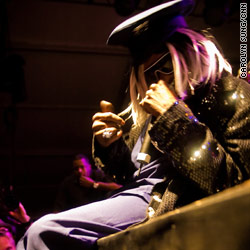 There was a train wreck at Coachella, and its name was Sly Stone.
While the better part of 75,000 festival-goers were at the main stage watching Gorillaz pull off an amazing combination of live performance and animation, 300 fans of Stone waited in a nearly empty tent across the property. And waited.
Earlier in the evening, the reclusive legend was a no-show for his 7 p.m. set. At 7:05 p.m., a man came out and announced, "Sly Stone's performance has been postponed 'til a little bit later.'" A few in the crowd snickered. This would not be the first time Sly bailed on a gig. "No, no, no," the man continued. "He's gonna funk this place out!"
Shortly after 9 p.m., a text message came from Coachella organizers that read: "Sly Stone 10:30 pm Mojave tent." 10:30 rolled around. 10:45. 11 p.m. The band was soundchecking furiously, but still no Sly. Finally, at 11:10, the diminutive Rock and Roll Hall of Famer took the stage - in a blonde-and-black streaked wig straight out of Carol Channing's wardrobe from "Hello Dolly." A navy cop's outfit (complete with badge) and black sequined smoking jacket completed the ensemble.
Instead of diving into one of his many timeless hits, he launched into a diatribe about his 50 million dollar lawsuit against his former manager, Jerry Goldstein, saying, "I didn't know I was being stolen from," as well as something about now being able to buy his own shoes. Then he sat down on the edge of the stage and sang a preview of a new song - which ended when he rolled back and laid down on the stage.
"Stand." "Family Affair." "Hot Fun in the Summertime." The band and back-up singers soldiered on admirably through what should have been a gloriously funky trip down memory lane. But every time it was Stone's turn to sing, the audience held its breath. He chimed in here and there - sometimes making it through a verse, but never finishing an entire song. There were moments when he sounded like Sly Stone. There were other moments when he sounded like that guy who sang "Pants on the Ground" on "American Idol." It didn't help that he was experiencing technical problems with his keyboard, or that the microphone kept feeding back when it wasn't flopping in his face.
The performance was utterly heartbreaking and entertaining for all the wrong reasons - yet it was impossible to look away. Was the 67-year-old entertainer wasted? Mentally unstable? Was it all an act? Even Chris Spellman, who booked the Coachella appearance for Stone, couldn't say.
Things started looking up when Stone got through most of "Dance to the Music." Then his keyboard when awry. The band immediately kicked into "I Want to Take You Higher." But after a couple of "boom chaka laka lakas," he disappeared. Did he jump into the crowd? Did he walk to the side of the stage? No one really saw him leave, but he never came back.
After a bizarre 30 minute performance, Sly Stone was gone. But in a lot of ways, he never really showed up.
This morning, Spellman released a statement: to CNN saying, "Sly's a composer, as he's a performer - and on stage, in the moment, his shows combine the two."