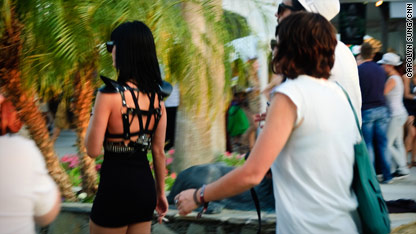 I'm not trying to sound pretentious or "Hollywood" at all, but celebrities sightings don't really phase me. I just don't get starstruck. Maybe I'm immune because of all the "star-studded" events I've covered for work, but I just feel bad for celebrities when paparazzi are encroaching on their space.
We've heard this over and over again, but hey - celebrities are people, too.
But Friday evening, I crossed over to the dark side and became a "pap" myself. As Katy Perry put it in the chorus of her hit song, "I Kissed A Girl" and "I liked it." The location was Coachella's V.I.P. area, and the star was - wait for it - Katy Perry.
It was the first celebrity sighting of the day and in my attempt to get a picture out to my Twitter followers, I grabbed my co-worker's professional camera and started running towards her. I was actually chasing her and snapping away as her entourage gave me a nasty glare. It was only when they shielded Katy away from me and other photographers that I realized what I was doing... but I couldn't stop. It was a very surreal moment for me. I felt this rush through my body - a thrill. It was exhilarating.
I didn't get the million dollar shot, but I got a rear profile shot of her; detailing her black bondage mini dress, surrounded by her "angry people."
And yes, 20 seconds later, I was filled with guilt for stealing away Miss Katy Perry's personal space. But let me ask you - why would someone dress like they were ready for a photo shoot unless they were prepared to have their picture taken?