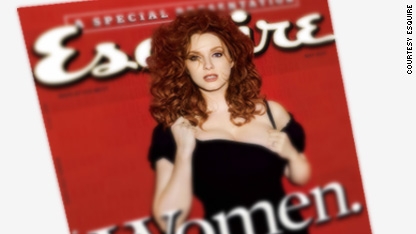 "Mad Men" actress Christina Hendricks landed the cover of Esquire magazine's May issue, and it seems that job included giving men a few words of wisdom about women.
In an open letter to all the men perusing the magazine, Hendricks advises them to stay away from Facebook ("it's an invasion of everyone's privacy"), complaining about a woman's friends ("no matter how many times we say a friend of ours is driving us crazy") and wearing tank tops in public ("you're walking around in your underwear").
However, she does think the opposite sex could drink more scotch ("it's the most impressive drink order") and reconsider the word "panties" ("say it more").
When it comes to marriage, Hendricks would like the men of the world to know that very little changes.
"The only things that will get a married man laid that won't get a single man laid are adultery and whores," she posits. "Intelligence and humor…got you laid when you were single. That's what gets you laid when you are married. Everything still works in marriage: especially intelligence and humor. Because the sexiest thing is to know you."
Lastly, memory is key: men should always remember what their woman likes (Hendricks has a cute example of how her husband demonstrated this ability while they were dating), and never forget that a woman remembers every single thing her man has ever said about her body, or another woman's.
"We remember forever what you say about the bodies of other women. When you mention in passing that a woman is attractive…your comment goes into a steel box and stays there forever. It's about learning what you think is sexy…it's about keeping your man and knowing what he likes," Hendricks said.
Likewise, any comments a man says about his significant other, good or bad, "are stored away in the steel box, and we remember these things verbatim. We remember what you were wearing and the street corner you were standing on when you said it."