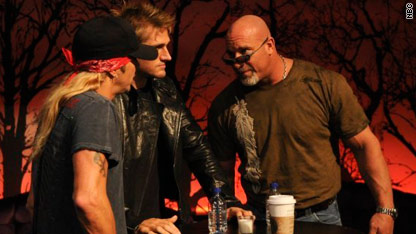 Former wrestler Bill Goldberg got his butt kicked on "Celebrity Apprentice" when he stepped up as project manager. He shouldn't have been in the ring in the first place.
The challenge was to craft image makeovers for young rising country singers Luke Bryan and Emily West. Trace Adkins, a former "Celebrity Apprentice" runner up, made a special appearance to help the teams.
Donald Trump asked Goldberg if he thought Bret Michaels should be the men's leader since music is Michaels' arena of expertise. Goldberg insisted it should be him. There are only three men left on RockSolid, and he's the only one who hasn't been project manager. However, he delegated 95 percent of the task to Michaels.
Michaels proved to be a great "assistant project manager," as he called himself and didn't complain about doing the majority of the work. He should have complained loudly when Goldberg tried to get him fired. Instead, he - always the sensitive one - thought he lost a friend. What is wrong with these men?
Goldberg had the best line of the night when Trump asked again why he didn't see that Michaels was really the best project manager for this challenge.
"I was unfortunately misinformed by my own stupidity," he responded. Hmm… I know some people who may need to steal that line.
Meanwhile, Cyndi Lauper naturally volunteered to be the women's project manager. The women won, but did you see all the claws come out this episode? Lauper and Maria Kanellis especially didn't gel. Kanellis reminisced about when Lauper was her childhood idol, but she now considered her mean. Lauper responded that she would give her a picture to use as a dartboard.
Overall, the women believed that Lauper didn't want or need their input. Lauper did, however, ask for Sharon Osbourne's opinion because she respected it. That's the difference. She respects Osbourne's opinion about music, not the others. I don't blame her.
Speaking of Osbourne, she missed the first part of the challenge because she was sick. She later arrived, but looked pale, weak and fatigued. As the show progressed, her color and energy returned. Holly Robinson Peete commented at the start of this episode that Trump seems to be giving her a break. Do you agree?
Who do you think will be eliminated next? Post your comments.