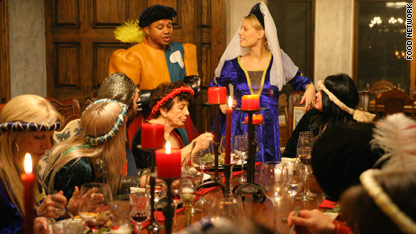 It's another gorgeous day in Beverly Hills and the private chefs of Big City Chefs have three new events this week - all of the utmost importance. Chefs Brooke and Brian see to a medieval murder mystery party, chefs Stuart and Manouschka find themselves at the mercy of "Foodzilla," and chefs Sasha and Jesse stand at the helm of a gourmet dinner club.
First stop: a Scottish Castle located in the heart of Beverly Hills. The chefs must create a multiple-course, 17th century English feast that also incorporates clues to expose a murderous dinner guest. If Medieval Times and Clue were to have a love child, this party would be it.
Unbeknown to the chefs, they too will become part of the murder mystery. Brooke, who is five months pregnant, is assigned the role of the neighborhood wench. (Badum-tish!) Brian is subjected to a pleather and vinyl ensemble somewhere between a cheap "Alice in Wonderland" costume and a MC Hammer video. After the humiliation passes, the quirky guests gnaw on turkey legs, drink from goblets and refer to each other as lords and ladies - all in all, a pretty normal affair. Ultimately, it is the vegetarian dinner guest who is revealed as the lethal milady. Irony ensues.
Over at a neighboring non-castle residence, chefs Stuart and Manouscka are preparing a birthday feast for Melissa's South African husband. Melissa, more aptly referred to as "Foodzilla," is not only a chef but completely OCD about her kitchen's cleanliness and utterly bonkers.
"It's her world, we just live it," zings Manouscka. Foodzilla insists the chefs wear Latex gloves while preparing the meal (Mmm, hospital food!), second-guesses Stuart's braised short ribs because her husband "hates stew," and orders the chefs at the last minute to make mieliepap for her hubby - a traditional South African akin to porridge or grits.
Despite Foodzilla's constant nagging, nitpicking and overall intrusion on the chef's working space, the meal pulls together deliciously. And, for a nice slap in Melissa's face, the husband positively adores Stuart's short ribs and helps himself to at least seven servings. The only snafu occurs when Stuart forgets to make the aforementioned mieliepap.
In a stroke of unforeseen alliance, Melissa and Stuart actually work together in the kitchen to prepare it right. In the end, the husband prances around showing off his heart-shaped blob of mieliepap, while Stuart proclaims it "tastes like wet laundry." Hey, as long as the customer's happy!
Lastly, we find Sasha and Jesse at yet another Beverly Hills McMansion at the dispense of a gourmet supper club. (On a complete side note, appears this isn't Jesse's first taste of reality television. He also appeared as a personal trainer on Bravo's "Work Out." We knew we'd seen him somewhere before!)
Every member of the club brings an ingredient that the chefs must incorporate into the meal - think private chef turned "Iron Chef." Some guests go the traditional route: avocado, pear, jalapeno peppers. While others opt for the more nontraditional: cow tongue, octopus, catfish. There's also a brief, unexpected cameo by "Party of Five" and "Mallrats" star Jeremy London.
Turns out neither of the chefs have prepared beef tongue before so Jesse decides to improvise by slicing it thin and sauteeing it for tacos. Sasha, nervous about how the dish will turn out, tells the diners "to be prepared to chew" and that the tacos were all Jesse's doing. How's that for being thrown under the bus? Breaking the suspense, the host declares the tacos like any gourmand would: as "awesome." From there, it's smooth sailing. The night ends with a pear crisp complete with Tequila-infused caramel sauce. The guests heard Tequila and immediately rejoice!
By and large, just another normal day in Beverly Hills. 'Til next time, champagne wishes and caviar dreams.