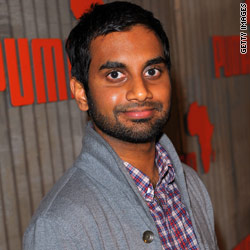 "Parks and Recreation" star Aziz Ansari will host this year's MTV Movie Awards, MTV announced today.
It will be Ansari's first time hosting the awards show, and booking the comedian was a no-brainer for the network.
"Our audience fell in love with Aziz on 'Human Giant.' They followed him to the movies, TV and stand-up, and connect with him daily online," MTV's General Manager Stephen Friedman said in a statement. "Aziz is the perfect host for the 2010 MTV Movie Awards as he will bring his innovative comedy and distinctive style to the movie industry's most rebellious night on television."
Ansari, for his part, is thrilled that he got the gig over an MTV reality show star. "I'm so happy Ronnie from 'Jersey Shore' was unavailable and this exciting opportunity was able to come my way," he said in a statement.
Nominees for the awards, which include categories like "Best Kiss," "Best WTF Moment" and "Best Scared as [Expletive] Performance," are soon to be announced, according to MTV's statement. The show will air live on Sunday, June 6, from the Gibson Amphitheatre in Universal City, California.