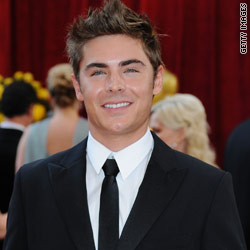 It was a good week for Hollywood's 25-and-under crowd.
Zac Efron - who made another baby step towards becoming a star adults can (openly) embrace in "Me and Orson Welles" last November - has got a new gig, and it has absolutely nothing to do with high schools or musicals.
Efron has signed on to not only star in but also produce a remake of "Snabba Cash," according to The Hollywood Reporter.
The Swedish film, based on the Jens Lapidus novel, tells the story of a guy who gets rich by becoming a runner for a coke dealer, and Efron will get to play him in this new adaptation.
Actress Lily Collins will make Team Jacob members everywhere hate her when she portrays Taylor Lautner's girlfriend in the thriller "Abduction," according to Variety. Lautner stars in the movie as a young man who spots his baby photo on a missing person's Web site. This movie will be directed by John Singleton.
Last but not least, "Harry Potter" star Daniel Radcliffe switches it up a bit and heads to Broadway once again: the actor will star in the musical "How to Succeed in Business Without Really Trying," according to DeadlineHollywood.com.
It doesn't sound like Radcliffe will drop trou for this one as he did for "Equus": This time around Radcliffe will play a window-cleaner who relies on a self-help tome and a questionable tactics to go from the bottom of the corporate totem pole to the top.