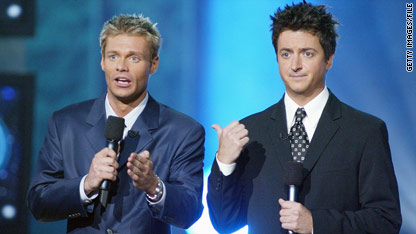 testing captions
At least one person didn't think Ryan Seacrest's recent joking reference to his former "American Idol" co-host, Brian Dunkleman, was very funny.
In an interview with TV.com, Dunkleman said he got that Seacrest was going for laughs when he jokingly during the Top 9 "American Idol" show said his former colleague would be co-hosting the upcoming "Idol Gives Back."
"Well, it was an attempt at a joke," Dunkleman said. "But unfortunately for Ryan, instead of a laugh, he got applause."
Dunkleman left "Idol" as co-host after the first season, reportedly because he did not like the treatment of the contestants.
Since then, he's been the source of plenty of comedic material regarding his decision to leave what went on to become the most popular show on television.
In reacting to Seacrest's quips, Dunkleman said jokes have "never really been [Seacrest's] strong suit."
"But it was a joke, and whether it was mean-spirited or not is irrelevant," Dunkleman said. "A joke's a joke; you can either take it or you can't."
"And quite honestly, once you've had Jimmy Kimmel say in a monologue that you should be punched in the face, and at this point you'd probably be receptive to a knife in the gut, I think what Seacrest said was pretty tame."