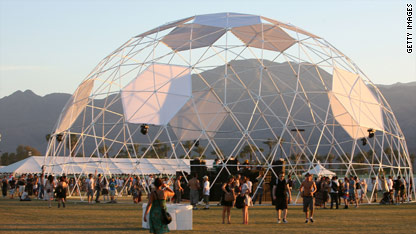 testing captions
Right about now, baggage handlers from Los Angeles International Airport should be pulling in guitar cases and other equipment belonging to musicians from the UK who are en route to this weekend's Coachella Valley Music and Arts festival in the Southern California desert near Palm Springs. But due to ash from the volcano that erupted Wednesday in Iceland, many European airports have been temporarily shuttered, leaving artists stranded.
The Cribs, Gary Numan, Bad Lieutenant and Frightened Rabbit are all reportedly scrambling to find a way across the pond for the high-profile music event, which features more than 100 acts over the course of three days.
The Cribs - who are based in England - were slotted to play this afternoon at 4:30. Rick Gershon, their rep at Warner Bros. Records, tells CNN their plan to ferry to Amsterdam and catch a plane from the Netherlands had to be scrapped Friday night due to rough seas. In a blog posting on their MySpace page, the band writes, "We're really sorry it hasn't worked out, and we'd like to thank the promoters for being so understanding and helpful. They even offered to get us a private jet to the festival site if we could just get to the USA, but even that is is currently impossible. See you next year..."
Electro pop pioneer Gary Numan isn't scheduled to perform until Sunday evening. He should have flown out of the UK this morning, but he's now booked on the first available flight Sunday morning. "It's very tight!" says his manager, Steve Malins, in an email to CNN. "He'll arrive early afternoon - due on stage at 8 pm, but we'll give it our best shot! Of course, if flights are delayed on Sunday, then we're doomed..."
But there is some good news. Muse and Gorillaz - the British acts that are headlining Saturday and Sunday, respectively - are already safely on American soil.