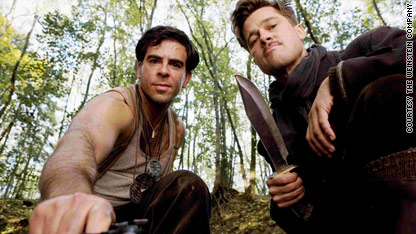 Out of all the movies in 2009, three made the cut on Yahoo! Movies list of "100 Movies to See Before You Die: The Modern Classics," and they're all notably familiar from awards circuit coverage: James Cameron's 3-D gold mine "Avatar", Quentin Tarantino's "Inglourious Basterds" and Oscar-winning director Kathryn Bigelow's "The Hurt Locker."
The movies - all of which were made between 1990 and 2009 - were chosen based on their artistry, originality, and pure cinematic entertainment, Yahoo! said in a statement. This is what creates an interesting mix of critically acclaimed features ("Brokeback Mountain; "American Beauty") with movies that were more embraced by the moviegoers themselves ("There's Something About Mary"; "The Big Lebowski").
The list also highlights some movies that are not only generation-defining, but also have scripts that just beg to be quoted at random, such as1995's "Clueless" or 2004's "Anchorman." And of course, more obvious choices from the past two decades, like "Goodfellas," "Silence of the Lambs," "Fargo" and "Eternal Sunshine of the Spotless Mind," were included.
International standouts also weren't ignored, with foreign films like "Y Tu Mama Tambien," "Amelie," "Chungking's Express" and "Pan's Labyrinth" among the them.
Of the past 20 years, what are your absolute, hands-down, must-see-before-you-die films?