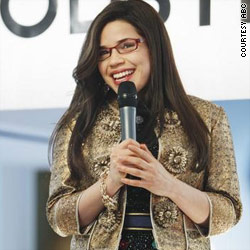 So many were disappointed to learn that ABC was kicking "Betty" to the curb after just four seasons that it's not much of a surprise the show got a ratings boost last night - it looks like even the fans who may have stopped watching came back for a final farewell.
"Ugly Betty" saw a 29 percent jump in ratings over last week with its final episode, achieving a season high according to THR.
The series finale of "Betty" gave fans some resolution, and was also filled with new beginnings. Wilhelmina finally gets to rule the Mode roost, Marc gets more creative responsibility, Amanda finds out who her birth father is, and Betty, Hilda and Justin all move out of Ignacio's Queens abode. The series' run may have been short, but it was enough time to see how much Betty evolved over the years, from gawky, poncho-d assistant to a stylish, editorial star headed for London.
And while she doesn't end up with Daniel in quite the way some fans may have hoped – one recapper was upset that there wasn't even a series finale kiss between the two – series creator Silvio Horta told TVGuide.com that there's still potential for romance to bloom.
"The core relationship of the show was always Betty and Daniel. They've been there for each other for the entire course of the series and to end with that possibility — and what I think you end with is a possibility — with anyone but Daniel seemed off," he told the Web site. "Are they together after that? I don't even want to say. I have my version in my head of what happens after she walks away from him, but I think everyone can have their own interpretation."
What did you think of "Betty's" finale? Was it fitting, or did it leave you wanting more?