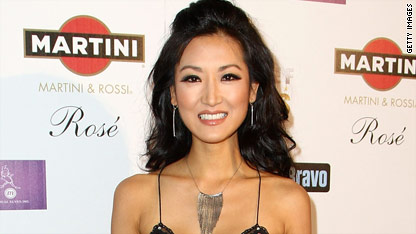 The second episode of "Top Chef Masters" had it all: melted cheeses, blood, and an underdog.
My recap of the first episode was an exercise in fanboy reverence. And I won't apologize for that.
Here's the thing: I can't be snarky about "Top Chef Masters." It's enough that snark is just wit with training wheels. But I don't have it in me to mock a show that I hold close to my callused heart. "Top Chef Masters" isn't a show about banshees on rampages. It's about talented people competing for bragging rights and charity. It's the NFL with knives, fire, and pomegranate reduction sauces. It is competitive food porn of the highest quality. And I just can't make fun of it.
So, last night's contest. First, here are the chefs:
Marcus "The Swedish Chef" Samuelsson. He's a James Beard award winner, born in Ethiopia, and raised in Sweden.
David "Gourmet Pops" Burke. A burly chef and restaurateur who invented such products as David Burke Gourmet Pops and David Burke Flavor Sprays.
Carmen "The Carmen" Gonzalez. She's a Puerto Rican chef who owns the Florida eatery Carmen the Restaurant.
Thierry "The Hat" Rautureau. This Frenchman owns Rover's in Seattle. He wears a hat. He's actually known as "The Chef in the Hat."
Monica "Don't Mess With" Pope. A largely self-taught chef, she owns the Houston-based Beavers.
The chefs first went head-to-head in the Quickfire Challenge, which is worth $5,000 towards the winner's charity. They were tasked with making host Kelly Choi her favorite comfort food – a grilled cheese sandwich. That the first round "special guest" was Choi made it seem like some producer failed to wrangle someone, but it was a great challenge. Making a grilled cheese sandwich is deceptively simple; it's all technique. Monica won this challenge, a minor coup since she admitted to being a culinary school dropout. Her Moroccan-themed sandwich with feta and dates looked scrumptious. Marcus offered up a deconstructed grilled cheese with croutons for dipping into a cheese sauce.
The other chefs offered safer interpretations on the grilled cheese. Carmen's sandwich featured manchego on a baguette. Thierry and Burke offered uninspired sandwiches with Mediterranean ingredients and flavors. During this challenge, however, Carmen cut her finger. It didn't get any easier for her from there.
The Elimination Challenge was to interpret "soul food," and then cater a birthday party for ER actor, and soul food fanatic, Mekhi Phifer. Monica ended up making an amazing looking twist on shrimp and grits, and David Burke decided to go experimental with the assignment, and cooked up sweet potato custard with crabmeat served in an eggshell, hush puppies, and watermelon rind.
The jovial Thierry whipped up Moroccan pork shoulder with faro, cauliflower, and Brussels sprout slaw. Marcus was raised in Scandinavia, and didn't grow up with "soul food." But his offering was boldly traditional: barbecue chicken, mac and cheese, and subversive collard greens made with coconut milk. Carmen had a simple, hearty plan: To make an oyster and sausage stew, to be served with mashed yucca and bacon.
Like most episodes of both "Top Chef" and "Top Chef Masters," whenever the chefs are supposed to cater an affair off-site, they are given time to prep, and then allowed to wrap up their ingredients for transport. Well, if a sliced digit weren't bad enough, Carmen's troubles are compounded when she forgets her stew back at the "Top Chef" kitchen. She realizes this once she gets to the hotel where the party is being held, and has to jump in a car to go back to get her main course - an hour-long trip, and they only have two hours to cook.
And it gets worse. Monica and Thierry try to help Carmen out, cutting up the yucca and putting them to boil. You'd think two veteran chefs would now how to boil tubers… To prove the point that no good deed goes unpunished, they accidentally burn the starch. Carmen returns. She freaks. She decides to make the best of it, and serves the stew with chopped cilantro and sausage as a garnish. It's a difficult decision, especially since all the other chefs have such complicated meditations on a classic American cuisine.
But, in this round, simplicity won. Carmen pulled ahead in one of the unlikeliest comebacks in "Top Chef" history. Between the three judges and those served who voted, Carmen racked up the most points: 15 ½. The judges and voters weren't too pleased with Burke's playfulness, and he was awarded 10 points. Thierry's pork shoulder didn't wow, earning him 11 points. Ultimately, Marcus's dish won with 14 ½ points, beating Monica's 13. It was a battle of the details though, as both dishes were judge favorites.
A note about the judges: they all seem to know they have one of the best gigs in television - the judges are so happy, it's ridiculous. From the impish James Oseland, to author Jay Rayner, who's a flirting hulk. This episode, the lovely and knowledgeable Gail Simmons from "Top Chef" stood in for the equally lovely and knowledgeable critic Gael Greene. Maybe the judges could be more… scathing? Rude? Snarky?
Ah, but that would just be cheap drama. And "Top Chef Masters" is about great food made by rock stars.