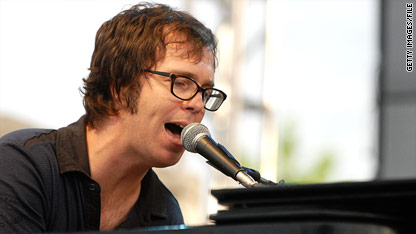 For music lovers the best parts of spring and summer are the great music festivals all around the country. Imagine Jay-Z entertaining the same crowd as Muse, or George Clinton playing next to the Allman Brothers. How about Jack Johnson and Cypress Hill? It's all happening in the next few months!
COACHELLA –- April 16 to 18
Indio, California, Empire Polo Fields
This 3-day festival is one of the season's biggest and most eagerly anticipated. It attracts everyone from Hollywood stars to carpooling teens. The biggest decision for many concert-goers? Do you buy one day or stay for all three?
Headliners:
Jay-Z, Muse, Gorrilaz, LCD Soundsystem, Tiesto
Don't Miss:
She & Him, Vampire Weekend, MGMT, Special Appearance by John Waters and Perry Ferrall vs. Steve Porter, Shooter Jennings
Warning:
It's April in the middle of the California desert - don't kid yourself, it's going to be HOT!
WANEE MUSIC FESTIVAL – April 16 and 17
Live Oak, Florida, The Spirit of the Suwannee Music Park
If blues, funk and just good 'ole southern rock are your thing, then this is the festival for you! From the always-colorful George Clinton & Parliament Funkadelic to The Allman Brothers Band, there's a little bit for everyone.
Headliners:
The Allman Brothers Band, Widespread Panic, The Wailers, George Clinton & Parliament Funkadelic
Don't Miss:
Bob Weir, Rob Wasserman, and Jay Lane Are Scaring the Children, North Mississippi Allstars, Stephen Stills, Derek Trucks & Susan Tedeschi Band
THE BAMBOOZLE –- May 1 and 2
East Rutherford, New Jersey, Meadowlands Sports Complex
This 3-city festival kicked off in Anaheim, California, at the end of March but the remaining two stops happen in May. Should you go? Do you identify with and/or scorn the "alterna- rock" and "hipster" titles? If so, this is your festival!
Headliners:
Weezer, Paramore, Angels & Airwaves, MGMT
Don't Miss:
Ke$sha, OK Go, Bobby Long, The Aquabats, Drake, Matt & Kim
CHICAGO BAMBOOZLE STOP - May 15
Chicago, Illinois, Charter 1 Pavilion
Headliners:
Something Corporate, Cobra Starship, 3OH!3
THE HANGOUT BEACH MUSIC & ARTS FESTIVAL - MAY 14 to 16
Gulf Shores, Alabama
One of the season's most eclectic line-ups with possibly the best venue - it's held on the beach!
Headliners:
Trey Anastasio & TAB, ZAC Brown Band, John Legend, Ben Harper & Relentless 7, Alison Krauss & Union Station
Don't Miss:
Davy Knowles & Back Door Slam, Neko Case, Blind Boys of Alabama, Guster
Warning:
Due to venue's size, this festival is limited to only 35,000 people a day. Get your tickets early!
BONNAROO – JUNE 10 to 13
Manchester, Tennessee
If Coachella is the go-to spot for West Coast music aficionados, than Bonnaroo gets crowds from the rest of the country. What makes this festival so special? One word -  camping! From tents, to RVs, thousands pack the fields, spread out their gear and indulge in three days of music bliss, comedy and art.
Headliners:
Kings of Leon, Dave Matthews Band, Stevie Wonder, Jay-Z, Norah Jones, Conan O'Brien, Tenacious D
Don't Miss:
The Flaming Lips performing Dark Side of the Moon, Ingrid Michaelson, Regina Spektor, Ozomatli, Miranda Lambert, Steve Martin & the Steep Canyon Rangers
Warning:
You will be camping! This is not for the occasional concert-goer... read up and be prepared. Oh, and don't count on sleeping!
PITCHFORK MUSIC FESTIVAL - JULY 16 to 18
Chicago, Illinois, Union Park
Headliners:
Modest Mouse, Pavement, LCD Sound System, John Spender Blues Explosion
LOLLAPALOOZA - August 6 to 8
Chicago, Illinois, Grant Park
This year's Headliners at Lollapalooza may have you singing "Reunited" but there's nothing schmaltzy about the rock. One of the most eagerly anticipated will be Lady GaGa, who played in 2007, but obviously to much less fanfare. Green Day's appearance will be their first since 1994.
Headliners:
Lady GaGa, Green Day, Soundgarden, Arcade Fire
Don't Miss:
AFI, Slightly Stoopid, Cypress Hill, Erykah Badu, Grizzly Bear, MGMT
MILE HIGH MUSIC FESTIVAL - AUGUST 14 and 15
Denver, Colorado, The Fields at Dick's Sporting Goods Park
If you still have energy or just want a relaxing way to bring your summer to a close, just head to the Mile High City. This festival promises to ease you back into the hectic pace of fall.
Headliners:
Jack Johnson, Dave Mathews Band, Steve Miller Band, Weezer
Don't Miss:
Cypress Hill, Phoenix, Bobby Long, Donovan Frankenreiter, Tim Reynolds