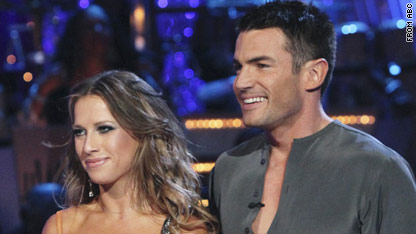 testing captions
Shedding his shirt didn't help Aiden Turner stay on "Dancing With the Stars." Last night, the soap star was eliminated from the competition after performing a rumba that pleased a boatload of fans in the rehearsal footage, but didn't get enough support from the judges and viewers.
Turner, who on last week's results show said he was so nervous that he threw up afterward, kept his lunch, but he looked upset about his exit and his voice broke at one point when he thanked his professional partner Edyta Sliwinska.
Comedienne Niecy Nash was the last celebrity contestant to be declared safe, but she was not necessarily in the bottom two, co-host Tom Bergeron said. So we don't know for sure who received the second-lowest scores.
Once again, the producers seemed determined to keep Kate Gosselin - the contestant people love to hate - in limbo for as long as possible and she didn't find out until the last few minutes that she would get at least one more week to dance. (If this continues, can somebody get her and Tony Dovolani a chair for next week's results show?)
Elimination nights always seem to drag on a bit, but yesterday's show had some highlights.
First, the film trailer parodies starring the contestants were funny - my favorite was "ChaChaBlanca," a spoof of "Casablanca" that had Olympic champ Evan Lysacek yearning for Niecy Nash. Second, it was fun to see the cute photos and videos of the pros when they were kids. (It also makes you realize how much of their lives they have dedicated to competitive dancing - some of them have been doing this since they were 5.) And of course, Sade - smooth as ever.
On a separate note, some of you said yesterday that you don't like the music selections on the show and I totally agree. It's understandable that the producers want to keep the music modern and relatable to the viewers, but some of it just doesn't work.
What did you think of the results?