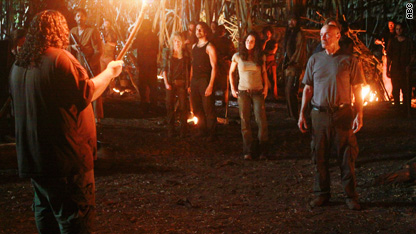 Here's a quick example of what was going through my head at various points during Tuesday night's episode of "Lost:"
"Alright, they're off to blow up that plane and - WHOA! What just happened?!?!?"
And later in the episode: "What an interesting encounter between Desmond and Ben and... WHAT IS DESMOND DOING?!?!?!"
And.. scene.
With just a few precious episodes left, "Lost" is cramming in a lot of plot and with it, a lot of plot twists. And yes, some answers (What are the whispers in the forest? Lost souls who can't leave the island - checking that off my list. Thanks, Michael!).
As I mentioned here, Hurley has turned out to be almost as important a character to solving the mysteries of "Lost" as Desmond, so when this episode looked to be a "flash-sideways" about him, I knew that the plot would be moving forward in a big way. Indeed, many of the puzzle pieces of his story arc were resolved or at least mostly cleared up (except for that bird that said his name in season two... still hoping we'll find out about that one).
We now have a good idea about the significance of Libby being in the mental facility with Hurley, as she was also a mental patient in the alternate timeline, recognizing Hurley thanks to her ability to see the "real" timeline.
Thanks to a visit by Desmond at one of Hurley's own Mr. Cluck's restaurants (did you catch the employees using the Numbers?), Hurley began to be convinced that there really was something to what she was saying. A kiss from Libby sealed the deal in a scene that rivaled last week's underwater encounter between Desmond and Charlie as a pure rush.
Back on the island, Ilana and her crew prepared to blow up the plane before the Man in Black could use it to leave the island, but then some unstable dynamite quickly sent her to an Arzt-like fate, putting a major dent in those plans (followed by an even bigger dent caused by Hurley who used more dynamite to destroy the Black Rock, soon after a warning from Michael's ghost).
Interestingly, Jacob and Hurley haven't spoken too recently, as we saw when Hurley, making up orders from Jacob, headed off on his own with the rest of the candidates (and Lapidus in tow) to meet with "Smokey." However, I have a sinking feeling that Richard, Ben and Miles had the better idea to destroy the plane.
Sayid arrives at the Man in Black's camp with Desmond, "the package." This is still the new Desmond, who is not unlike Jack in his zen attitude... considering how the Man in Black dealt with Des, by pushing him into the donkey-wheel well (yet another jaw dropper), one shudders to think what he has in store for Jack, who showed up with the rest of the candidates at episode's end - the Man of Science and the Man of Faith, now very changed men, meet again for the first time.
... And that wasn't the end either, because the final scene took place at Ben and Locke's school, the location for Desmond's next stop in the alternate timeline. After a light interrogation by a suspicious Ben, Desmond... floored it and hit the wheelchair-bound Locke! Um... What?!?! Is Desmond trying to trigger knowledge of the island in Locke in a more forceful way than usual? Is he trying to kill Locke, hoping that might kill the Man in Black? What exactly is Desmond trying to accomplish, anyway?
Just think, with four episodes left, that's probably just a taste of the twists still in store.
Some stray observations:
– Picking up from last week's callback "the island is not done with you yet," Ben mentioned that the island seemed to be "done" with Ilana. This returns to the concept that the island is a sentient being in some form, as opposed to a place being manipulated by mystical forces.
-The ability of Hurley to whip out a checkbook at will certainly made it easier for him to solve some mysteries.
– Another great "Zen Master" Jack scene here, where he explained to Hurley that he has made his peace with having a hand in the death of Juliet.
– Just like it was with Desmond and Faraday, love led to Hurley's awakening about the plane crash and the island. For all the science and deep philosophy here, matters of the heart are also central to "Lost."
– Interesting conversation between Hurley and Miles about their experiences with the dead. Miles seems surprised that ghosts "yell at" Hurley so often.
– Dharma's Dr. Chang pops up honoring Hurley as a captain of industry in the alternate timeline. We still don't know what became of the Dharma Initiative there.
– Samm Levine played one of Hurley's fast food employees: "Freaks and Geeks" alumni alert!
– Quite a few scenes here reminiscent of the past: Ilana's death and Arzt's death, Hurley blowing up the Black Rock and Locke blowing up the sub, and the similarities between the Man in Black's attempt to kill Desmond, and Ben's first attempt to kill Locke. Speaking of which, I'm fairly certain that Desmond is still alive, in both timelines.
Phew, that's a lot to chew on before next week. What caught your attention this week? Why do you think Desmond hit Locke? Share your thoughts and theories below (here is one iReporter's take)... and while you're at it, post a video describing how you would like to see "Lost" end (in 30 seconds or less) on CNN iReport.