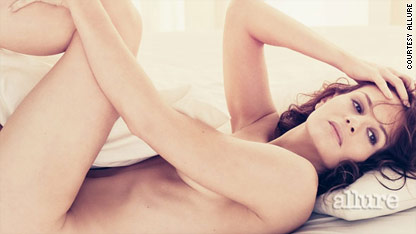 Kara DioGuardi went  nude for Allure magazine's latest issue, and the 39-year-old said it was an easier task now than it would have been 20 years ago.
"The way I felt about my body when I was 20, I would never have gotten naked," she said in the beauty magazine's May issue. "And now, here I am almost 40, and I'm OK with it."
But for DioGuardi, getting naked has got nothing on being watched by millions.
"I faced my biggest fears last year, speaking live in front of 30 million people. I knew taking my clothes off wouldn't come close to that," the songwriter said.
DioGuardi said she didn't change anything about her diet or workouts for the photo shoot, aside from keeping an eye on her sodium intake. After battling binge eating and depression in her early 20s, DioGuardi has reached a place where "food is not what I use to anesthetize myself anymore," she said.
When she was struggling with eating issues, she was "a size 6 or 8," she said, adding that she's now closer to a size 2. "I have songwriting now to help me express all the things I used to stuff down," DioGuardi said. "The physical is a manifestation of what's going on inside."
Joining DioGuardi in the nude spread are "Death at a Funeral" actress Regina Hall; "Grey's Anatomy's" Jessica Capshaw; "Entourage's" Emmanuelle Chriqui; and singer Colbie Caillat.