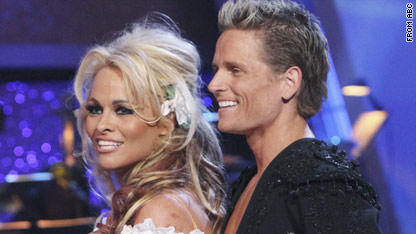 testing captions
Let's see: Neon lights flashing the word "HOT," balls of fire exploding on stage and celebrities throwing red, heart-shaped pillows at each other.
Do you get the hint?
It must be "passion night" on "Dancing With the Stars," or "our most demanding night ever," warned co-host Brooke Burke ominously at the start of the show.
The celebrity contestants and their professional partners had to dance the dramatic tango or the romantic rumba on last night's episode and the judges were hard to please.
Comedienne Niecy Nash seemed to pour her heart into her rumba with Louis Van Amstel - the dance was actually dedicated to her late brother - but the judges declared it "a bit boring."
They told singer Nicole Scherzinger that she was beautiful to watch during her rumba with Derek Hough, but called her out for being hesitant and nervous during the performance. "Your ankles were quivering," said judge Carrie Ann Inaba. (Yikes.)
Soap star Aiden Turner seems to perpetually have a vein popping in the middle of his forehead when he listens to the judges' comments and this week was no exception. The judges weren't thrilled with his rumba either.
Actress Pamela Anderson had better luck, despite the producers' apparent concern that she would go too far with her rumba (judge Len Goodman was shown warning her not to be "too raunchy.") But the dance with her professional partner Damian Whitewood turned out to be pretty and romantic, pleasing Goodman, who called it understated and sophisticated.
The judges were also kind to Kate Gosselin, the other most-talked about contestant on the show. There were the usual tears and drama in her rehearsal footage, but Gosselin's tango with the eternally-patient Tony Dovolani - complete with a dramatic flip at the end - was called her best dance so far. "We're having a mini-breakthrough tonight," said judge Bruno Tonioli.
Still, Gosselin ended up at the bottom of the pack at the end of the night. For the second week in a row, Olympic figure skating champ Evan Lysacek finished first after a dramatic tango with his professional partner Anna Trebunskaya - both dressed in black.
Who do you think will be eliminated tonight?