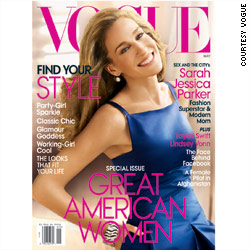 Sarah Jessica Parker - star of "Sex and the City 2" and mother to two new baby girls - graces the May cover of Vogue. And she looks pretty darn good.
"We're still playing—uh, I don't know how old Carrie is! Is she about 42 now?" Parker asked in the Vogue interview. "I think Carrie's younger than I [Parker is 45], and Miranda and Charlotte are younger than they are in real life. Samantha was always the older lady, so she's 52 now and talks a lot about what comes with that. In the movie. Talks about menopause. Comedically."
Parker returned to her children and husband Matthew Broderick after filming for seven weeks in Morocco. She's beginning a new role as the president and chief creative officer of the designer fashion label Halston, but is trying to keep things at home normal.
"We painted our patio furniture ourselves…. I make my children's food myself. We put together their high chairs ourselves; we do a lot ourselves! We do our own grocery shopping, we go to the market ourselves, you know? I do my laundry."
This issue of Vogue hits newsstands on April 20. Read the full interview with SJP here