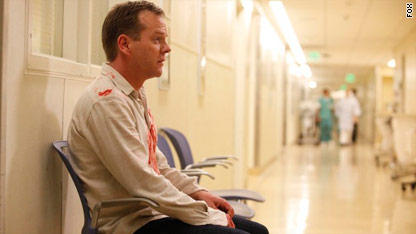 SPOILER ALERT: You know the drill... if you haven't seen this episode of "24" - and don't want to know what happens - don't read any further!

"24": Day 8 - 8 a.m. to 9 a.m.
Greetings Bauerites, I'll get right to it. Mark down another lightning-paced, thrill-ride-of-an-episode of "24."
Let me be blunt. This space is not reserved for hugs, kisses and kudos for the writers and cast of the show. When they make me watch paint dry, I say so. If I'm reorganizing my sock drawer, checking e-mail and playing Jenga (simultaneously) while I watch, that pretty much means I'm not feeling a particular episode.
However, I also give credit where it is due. Lately, the show has gotten things right in bunches. Sure, there are idiosyncrasies that faithful Bauerites can spot quicker than Arlo Glass can punch up a drone feed, but this is fun and we're officially having it. The "24" ride is thrilling, and we've got six hours left in the park to ride this roller coaster before the gates close... so strap in and hang on. FULL POST