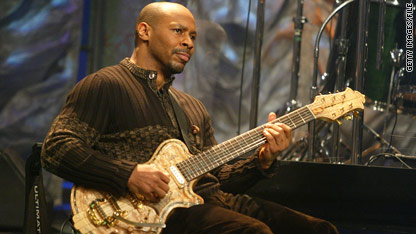 testing captions
It's a wrap for Kevin Eubanks and "The Tonight Show."
The bandleader announced during Monday night's show that he is definitely leaving after 18 years. Eubanks plopped down in the guest seat and told boss Jay Leno that he felt it was time to move on.
"It's been 18 years," Eubanks said. "There are some other things I want to … hopefully keep a mind open for, other things I want to get to. After 18 years, you just need a little change of place and to see what else is going on."
He said he hopes to spend more time with family members and praised his time on the show. He'll continue on "Tonight" for the next six weeks.
Leno, in turn, had kind words for Eubanks, who often played straight man to the host, and revealed to the audience that the pair have developed a strong friendship over the years.
"Kevin and I go on our date nights," Leno said. "We have to see, like, every bad movie."