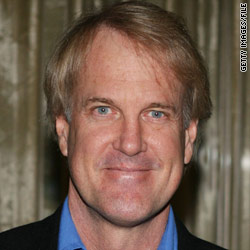 Despite Oprah Winfrey's decades in the limelight, fans are still learning tidbits about the talk-show host and media mogul.
The latest: Former "Entertainment Tonight" co-host turned musician John Tesh has confirmed that he and the talk show dynamo dated years ago.
Tesh confirmed the tidbit to the New York Daily News after word got out that a new biography on Winfrey alleged the pair once lived together.
In the new book "Oprah," author Kitty Kelley claims Tesh and Winfrey moved in together during the 1970s while both were young reporters living and working in Nashville, Tennessee.
"Oprah and I were cub reporters in Nashville nearly 40 years ago and we dated for a short time," Tesh told the paper.
Neither he nor Winfrey have commented on whether they were live-in loves or if their relationship ended - as Kelley's book claims - after Tesh left due to the "pressure" of being involved in an interracial romance.
Over on "Entertainment Tonight," Tesh's former co-host, Mary Hart, has poked some fun at the story, reviewing clips of her visit several years ago with Tesh to the set of the Winfrey's show in search of "clues" of a past love affair.