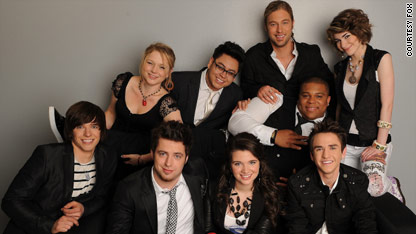 testing captions
9:19 p.m. –
Am I allowed to say that my favorite part of the show tonight was the introduction of the cast of "Glee" in the audience? I squealed a little bit every time I spotted Jane Lynch behind Simon!
There is just something wrong about Seacrest introducing the "very sexy Casey James." Casey sings "Lawdy Ms. Clawdy," and I like it. He, MamaSox and Lee are the most consistent performers this season.
Casey looks a little worried though. I hope his sexy will help keep him around for another week.
9:10 p.m. –"Baby, What You Want Me To Do?"
Very valid question from Katie Stevens to the judges and a very saucy performance from her. Little Ms. Katie worked that song!
Simon was "annoyed," but like the audience, I was with her for this one. She owned it, and I'm not mad at her.
9:02 p.m. – Ouch!
Seacrest dissed former "Idol" co-host Brian Dunkleman hard! He joked that Brian would be hosting a part of "Idol Gives Back" next week. That was just mean!
"Big Mike" Lynche selects "In the Ghetto" and while I loved his voice, I'm not sure it will be enough to get the votes.
As it was pointed out, it was a tad bit sleepy. But there is no doubt that he's a great singer.
8:51 p.m.– Siobhan "Screech" Magnus is looking super cute tonight, and she reminds me of a short-haired Sara Silverman for some reason.
I'm not at all surprised that she's a big Elvis fan. She lets Adam know that she's been compared to him.
She certainly goes for his theatrics, beginning "Suspicious Minds" with her back to the audience and staring straight into the camera. I know I am supposed to be moved, but something just seemed off.
I agree with Kara DioGuardi (shocking, I know) in that I didn't love it. Siobhan has her say in that she can't be labeled. That might be a problem for America, sweets.
As for the comparison, Adam Lambert would have knocked that song out of the park.
8:40 p.m. – Little Aaron Kelly has his collar up.
So adorable! He showed way more attitude on "Blue Suede Shoes" than I expected, but I could have done without some of the dance moves.
At first I thought he was going to fake himself out by saying the song probably wasn't a good choice for him. The girls were going crazy in the audience and I am imagining that his fan base really enjoyed that.
Simon thinks Tim was better than Aaron. Wow.
8:36 p.m. – I'll say this for Lee Dewyze – he clearly took Lambert's advice to heart.
He connects with the audience during "A Little More Conversation" (even though he turns his back on them at the very end). His performance was more Elvis than anyone else so far.
His voice was in great form and you can tell Lee is in it to win it. He gets kudos all around and they are well deserved.
8:27 p.m. – Mama Seacrest is a cutie! I dig her.
"Can't Help Falling in Love With You" gets the "TUrban" treatment. And we once again have the cheesy split screen for half a sec. And Seacrest breaks into a dance in the audience.
This whole performance had me picturing Tim singing in a scene from some as-yet-cast teen show.  The flash of his friends in the audience showed them looking less than moved, but the judges are all aboard the Tim Train.
Is this some Jedi-like mind trick where they fawn over Urban in the hopes that the fans vote against? And did Simon really say he went from "zero to hero?"
I'm baffled.
8:16 p.m.– Bad karaoke alert!
I dig Andrew Garcia, but his version of "Hound Dog" reminded me of the being in Vegas way, way, way off The Strip. All I needed was a warm, watered-down drink and some stale snacks.
Ellen gets points for mentioning his lack of swagger, but then lost a few for thinking it was a good performance. I feel like he is so lost without his guitar. Andrew is in some serious trouble, having apparently peaked during the auditions.
That was so painful to type.
8:05 p.m. – So the rumors were correct, and we are off to Las Vegas for an Elvis-themed night.
This is why Lambert is so savvy. Right up front, he addresses that he is super green in the industry. He also hits the nail on the head by saying the contestants need more energy and to step up their performance game. And perhaps some "guy-liner?"
Seacrest manages a joke about Lambert's tongue. You are sooooo edgy Ryan.
First out of the box with "Saved" is Crystal Bowersox.
As always, MamaSox delivers. You would have thought they were having revival up in that theater. She's just beyond. She rocked it out, and I really need her album to drop already. For reals.