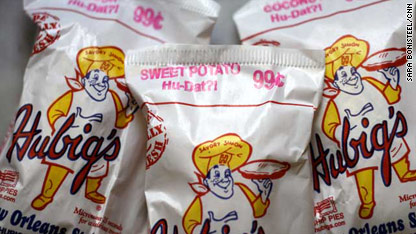 In the middle of the first episode of David Simon's New Orleans drama "Treme," chef Janette DeSautel has run out of dessert. And so, three months after Hurricane Katrina, she sells a customer the packaged Hubig's pie in her purse, telling her sous chef to "dress it up baby - drizzle something on it."
It's the tastiest moment in the show - invoking a collective sigh from the New Orleans diaspora - and one of the most inaccurate. There were no fresh Hubig's pies in the city at that time. The Simon Hubig Co. Inc., which did not flood but sustained serious roof damage following Katrina, didn't reopen until the first week of January 2006.
"The fact that all she had in her diner as a dessert item was a Hubig's pie was completely accurate," Hubig's Drew Ramsey tells CNN.com, recounting a time post-Katrina when the packaged pies were one of the only treats in town. "The fact that it was a month or so early was artistic license."
Simon explained the pie in a letter to the New Orleans Times-Picayune on Sunday.
"What you fact-grounded literalists clearly fail to understand is that the pie in Janette DeSautel's purse is a Magic Hubig's," Simon writes in the Times-Picayune. "Much in the manner of certain loaves and fishes in the New Testament, or several days worth of sacramental oil in the Old, this Hubig's somehow survives months of post-Katrina tumult and remains tasty and intact for our small, winking moment of light comedy."
As he did for Baltimore in "The Wire," Simon captures the tastes of New Orleans in "Treme," treating the city more as character than backdrop for the drama. "Treme" is set during a period in real life when native New Orleanians felt outnumbered by National Guard troops and out-of-state contractors in a hometown that seemed post-apocalyptic.
New Orleans fare represents in this first episode. A battered bottle of Old New Orleans rum is cracked in the opening sequence and second line revelers sip from Styrofoam frozen daiquiri cups. Characters praise the appearance of red beans and bread pudding.
DeSautel lauds the return of oyster season and decries "f-ing frozen Chinese crawfish." Local products such as Zapp's potato chips and Tabasco sit on kitchen countertops, and Abita beer signs glow from the front of a local bar - Vaughn's.
"Did you see the Jockamo IPA neon in last night's premiere of Treme on HBO?" Abita wrote Monday on its Facebook page. "We were glad it was there...but it's [sic] shouldn't have been. Know why?"
Jockamo IPA wasn't introduced until 2007.
Regardless of post-storm time-line errors, "Treme" offers the best representation of local fare the Crescent City has ever had in fictional TV.
The last television show set in New Orleans, FOX's 2007 cop drama "K-Ville," was filled with food flubs, the biggest being a mention of throwing a "gumbo party." Taking it with good humor, locals took it upon themselves to create a gumbo party tradition - Monday night gumbo parties held during "K-Ville"'s brief run.
Natives won't have to create new food holidays with "Treme." And local food businesses may benefit from the hubbub. At Simon Hubig Co. they've already seen an uptick in interest for their pies.
No plans yet for any "Magic" varieties.
Here's a guide to the local products in episode one of "Treme":
Abita This brewery on the north shore of Lake Ponchartrain expanded post-Hurricane Katrina and raised money for the Louisiana Disaster Recovery Foundation soon after with a special Restoration Ale.
Angelo Brocato's Italian Ice Cream Parlor Home of the lemon ice John Goodman's character Creighton Bernette doesn't want to cheat on, this Mid-City shop was flooded post-Katrina. It reopened 13 months after the hurricane and belatedly celebrated its 100th anniversary with its full lineup of gelato.
Dorignac's A Metairie, Louisiana, grocery store that was quick to reopen after Katrina.
Hubig's Pies With its chubby mascot Savory Simon, the Simon Hubig Co. Inc. serves up packaged snack-size pies in flavors such as lemon, peach, sweet potato, coconut, chocolate and pineapple. It's the magic pie featured in Janette DeSautel's restaurant. The factory reopened in January 2006.
Old New Orleans Rum This distiller had its entire first floor flooded post Katrina. Barrels of rum that survived the floods in the distillery's second floor were bottled as special 10-year blend.
Tabasco Arguably Louisiana's most popular export. This hot sauce is made 140 miles west of New Orleans on Avery Island by the McIlhenny Company with aged red pepper, vinegar and salt.
Zapp's These Gramercy, Louisiana, kettle fried potato chips are a local favorite, with flavors like Cajun Dill, Hotter 'n Hot Jalapeno and Cajun Crawtator.