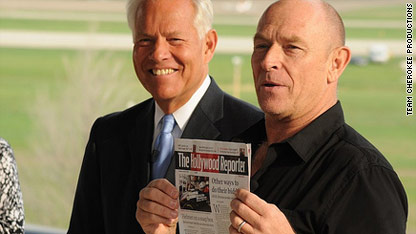 Filming has begun in Akron, Ohio, on Corbin Bernsen's independent film "25 Hill."
The movie, featuring Bernsen ("L.A. Law," "Psych"), Nathan Gamble ("Marley & Me"), Ralph Waite ("The Waltons") and Maureen Flannigan ("7th Heaven"), tells the story of a grieving boy and a bitter man who enter each other's lives by way of the Soap Box Derby. The boy's father has been killed in Afghanistan and Bernsen's character has been in a downward spiral since enduring a tragedy of his own.
Together they work on building a derby car and rebuilding their dreams, but then the derby itself is endangered by financial trouble -– a reflection of reality for the All-American Soap Box Derby, an Akron tradition since 1933.
Bernsen was inspired to help the derby after reading a newspaper story about its financial difficulties. The venerable, low-tech competition has lacked a title sponsor for three years, and its main lender recently called in a $500,000 loan (but has since relented).
Associate producer Mary Ethridge lamented the lack of support for "such a great event for kids and families -– I mean, you can't get any more apple-pie than that."
Bernsen wrote the "25 Hill" screenplay and is directing and producing for free through his production company, Team Cherokee Productions. He is being paid the Screen Actors Guild's minimum for his acting on the project.
"That seems to be Corbin's new thing: to come into a city, find a cause that moves him and rally 'round it with a movie," Ethridge said.
Bernsen's old "L.A. Law" pal Michael Tucker will portray an Akron banker.
With the help of Ethridge, an Akron resident, the actor has raised $500,000 to fund the film, mostly from Akron investors, she said. He's paying the derby organization a 10 percent licensing fee and has already handed over a check for $50,000, she said. The derby will get 10 percent of the film's receipts, she added.
"That's a pretty big licensing fee," quipped Ethridge, who said her entertainment experience "is limited to my fifth-grade holiday pageant."
Thousands of people turned out last week at Akron's Derby Downs racetrack –- the real site of the Soap Box Derby's national championship each summer –- in hopes of becoming extras in the feel-good film. "25 Hill" will incorporate footage from the real event, which involves more than 600 racers from all over the nation and the world. It's due to be released in the summer of 2011.
Akron Mayor Don Plusquellic, who will portray himself in the film, had the honor of calling "Action!" on the first day of shooting.
"It's really a community effort, and that's nice to see," Ethridge said.