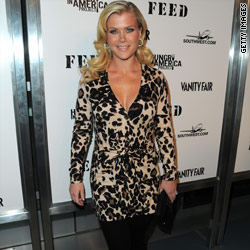 "The Biggest Loser" host Alison Sweeney can relate to the struggle of the show's contestants.
The "Days of Our Lives" star recently spoke with Working Mother magazine about her own weight issues and balancing life as a mother and actress.
"From the time I was 12 I was overweight, and as a teen I definitely struggled with my weight," Sweeney said. "I tried very extreme diets, like the papaya diet. It was about me feeling insecure and lacking confidence."
Reaching a healthy weight took time, she told the publication.
"Overcoming that was a long process," Sweeney said. "It involved changing my mindset from wanting to be skinny to wanting to be healthy – and that allowed me to reach my goal."
She said she understands critics' charges that contestants on "The Biggest Loser" lose weight far too quickly and counters that the show is helping, not hurting.
"I can see where that concern comes from," said Sweeney, who has written a forthcoming book. "But the contestants are endangering their own lives at home. We're providing them with tools to get healthy, with better choices.
The article appears in the May issue of the magazine.