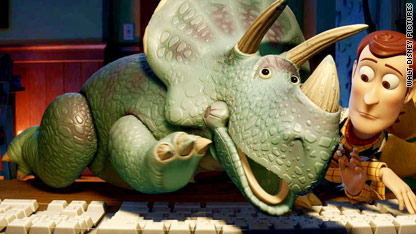 Hey movie trailer fans! Welcome back to the Trailer Park. It was interesting to see that last week's reader comments were all about Angelina Jolie. Folks definitely have an opinion about the would-be Mrs. Pitt! Now, let's see if there's as much reaction to another beautiful leading actress from Hollywood's elite.
Warner Bros. has released the second trailer for their hotly anticipated sequel, "Sex and the City 2," starring Sarah Jessica Parker. Is it just me or are these four TV-stars turned silver-screen-sirens completely ageless?
I mean, all four of them - SJP, Kim Cattrall, Cynthia Nixon and Kristin Davis look as gorgeous and fresh as they did back in 1998 when the original "Sex and the City" debuted on HBO. In the film, two years has passed since the last time we caught up with New York's fab four and the girls are dealing with marriage, parenthood and a whole lot of temptation - Carrie's other great love, "Aidan," is back in the picture.
While there's no trace of Jennifer Hudson this go around, notable a-list additions to the cast do include Penelope Cruz and cameos by Miley Cyrus and Liza Manelli.
For fans of the "Toy Story" franchise - and let's face it, with the first two films grossing $847 million at the worldwide box office, there are a few - Disney and Pixar are back with "Toy Story 3."
This time, Andy is going to college and so it throws the fate of his favorite childhood toys into serious jeopardy. The fact that Andy kept all of his childhood toys through high school might throw his future romantic prospects into serious jeopardy, but that's a whole other story. I started laughing hysterically at the point in the trailer when the toy triceratops tries to hide her instant messenger account on the computer!
There are a bunch of new toys this time around and that means a bunch of new voiceover talent, including Whoopi Goldberg, Michael Keaton and Cheech Marin.
Finally, this week, for those who enjoyed Julianne Moore's hot and steamy scene with Amanda Seyfried in the erotic thriller, "Chloe," a new movie trailer is out which offers the four-time Oscar nominee in yet another same sex scenario, this time with three-time Oscar nominee, Annette Bening.
The movie is called "The Kids are All Right" and also stars "Alice in Wonderland" actress Mia Wasikowska.
Moore and Bening play a lesbian couple with two teenage kids conceived with donated sperm. When the kids grow up and decide it's high time they met their "donor" father, movie-lovers finally get the answer to that age old question, "What happens when siblings conceived by lesbian mothers through artificial insemination bring their biological father back into the mix?" Okay, it's not really an age-old question, but it might be some day! Why not answer it now?