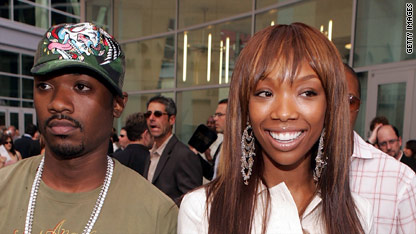 testing captions
LOS ANGELES, California (CNN) - Ray J Norwood is a self-described "reality junkie" and now he's getting his big sister Brandy to share his addiction.
VH1's "Brandy & Ray J: A Family Business" follows the musical siblings and their parents as the Norwoods work together to move their careers to another level.
"I think it's going to open up a lot of doors for me and for Ray," Brandy told CNN.
A sex tape with Kim Kardashian and two seasons of a dating reality show - "For the Love of Ray J" - boosted his celebrity.
Brandy earned teenage fame as TV's "Moesha" and as a successful R&B recording artist, but a Los Angeles freeway car crash more than three years ago interrupted Brandy's career. She was uninjured, but another driver was killed. The publicity and lawsuits that followed slowed her down, but now Brandy's ready to move on. "I think it's believing in yourself and just staying positive even in the times where it doesn't seem that you can come through anything," she said. "And that's what I did."
The doors Brandy wants opened lead to "the right album and going in the direction that I feel like I need to go in as an artist," she said. "I feel like that show is going to help push that along."
While Brandy's success comes from her "true talent," Ray J said he is "more media driven."
"With me, some of my success not only comes from being talented but from just wilding out in the media," he said.
Much of the drama in their new show centers on Brandy and her mom trying to tone down Ray J's infamous "wilding out."
"I try not to wild out too much and have too much fun because that might throw my focus away from the business possibilities," he said.
Sonja Norwood, their mother, has managed their careers since they were teenagers. The transition of responsibilities from the mother to the children is central to the show. "She represents strength and loyalty and all about the business," Brandy said. "Sometimes it's hard for her to switch the manager hat from the mom hat, so you see that dynamic as well."
Brandy and Ray J are working together on an album and they each have their solo music projects. "I'm a reality junkie now," Ray J said. "I can't stop. I'm addicted."