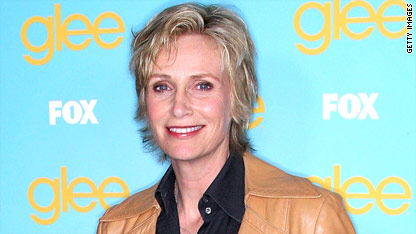 testing captions
Sue Sylvester may be unlucky in love so far, but the actress who portrays her is getting hitched.
A spokesperson for Jane Lynch confirmed to CNN that the "Glee" star and her partner, Lara Embry, are engaged.
"Yes, it's true," said Gabrielle Krengel, a spokesperson for Lynch. "Jane and Lara are thrilled to be engaged."
Embry is a psychologist and she and Lynch have been spotted beaming on the red carpet at events such as the Golden Globes where "Glee" took top honors for best musical or comedy television series.
Lynch has long been well known to fans for her appearances in Christopher Guest films and now has a strong small screen fan base thanks to her role as the diabolical cheerleading coach Sylvester on "Glee."