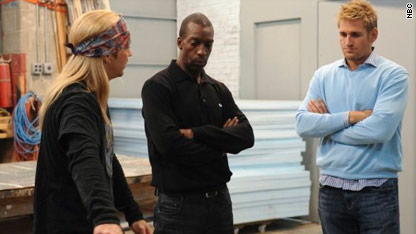 I didn't see it coming. As competitive as Michael Johnson is, he left "Celebrity Apprentice" without being fired. He informed Donald Trump that he needed to leave to take care of his son.
We don't know why. He stated he would know more once he landed, but Trump said it wasn't fair to his team to leave and return. How wonderful to see Johnson make family a priority. More people need to do that when it comes to the professional life vs. the personal one.
I am starting to like Bret Michaels more. He received a text message saying his daughter needed to be tested for diabetes. He knows firsthand about insulin injections, so the mere thought of her enduring the condition upset him. He threw himself into his work. He said that if he learned that she were really sick, he would leave to take care of her. His tears flowed suddenly, but I felt bad for any parent and him who has diabetes and wonders if a son or daughter will have it too.
Sharon Osbourne was out sick again this episode. Trump asked her project manager, Holly Robinson Peete, a few times if she thought she was really sick. She did, and I do too. What do you think is wrong with her?
Speaking of the women, they lost the challenge this week. The teams created two Right Guard commercials. Clyde Drexler starred in the men's spots. The women's ads, which had a catchy jingle, featured Scottie Pippen.
Cyndi Lauper returned from Washington, D.C., after meeting with President Obama in time to help with that jingle by adding layers to it. Peete should've thanked her because it sounded a thousand times better. Lauper is known for singing after all. Instead, incredulous looks greeted her. Lauper began to reveal her true feelings about Peete, but stopped herself. Come on, Cyndi, speak up.
The women failed to make their TV and Internet spots different, and that was a big faux pas. Peete admitted she made that decision, but still blamed Maria Kanellis for not editing the shorter ad properly. Both women fought hard to stay.
Yet, Trump fired Selita Ebanks simply because she wasn't as "tough" and couldn't defend herself as well as they could. Isn't that how it often is in the real world?
Who do you think will be eliminated next? Post your comments.