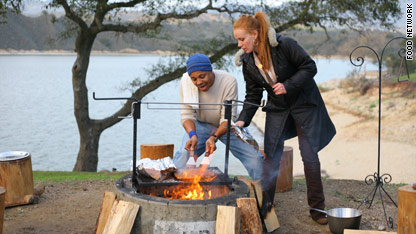 testing captions
Trailing on the Loubotin heels of Bravo's wildly popular "Real Housewives" series, comes Food Network's first stab into the fabulous life.
"Private Chefs of Beverly Hills" follows six chefs - Jesse Brune, Manouschka Guerrier, Sasha Perl-Raver, Brian Hill, Stuart O'Keeffe, and Brooke Peterson - from Big City Chefs, a private chef agency catering to the land of champagne wishes and caviar dreams.
The challenges this week: a doggy debutante's coming out party, "glamping" (we'll get to what that even means in a second…) and Botox beauty bash.
First stop, the dog club of Beverly Hills – or for those in the know, "The Club." This is not your pedestrian doggy daycare. Please darling, it's Beverly Hills! This country club offers essential amenities for any pooch that is any pooch: deep tissue massages, jaunts on the treadmill, a manicure in latest shade of "Rub My Belly Pink." The agency assigns chefs Jesse and Manouschka to welcome Pumpkin, the bulldog debutante with a face only a mother could love, into the society of pure-breds and bitches.
And because Kibbles 'n Bits certainly just won't do, the chefs construct two menus of similar dishes – one menu for those with two legs and one for those with four legs. Four-leggers chow on foie gras and Ahi tuna burgers while the mutts get peanut butter pâté and Kobe beef sliders.
All is smoothly barking along until Marjorie, the "clubhouse" manager, takes the liberty of allowing diners to customize their burger toppings. Diva Manouschka proclaims "I'm not Burger King; you can't have it your way!" (Touché Manouschka, touché.) While Jesse pulls out the "customer is always right" card.
Turns out you can have it your way, and the mini sliders are prepared to order. Fido will obviously know that he did not order carrot puree on top of his Kobe.
Next stop, "glamping." A hybrid of term like sexting or Speidi, "glamping" refers to glamorous camping. Cue the Troop Beverly Hills chant, boys! Chef Bryan and Sasha are the lucky ones to get a taste of the great outdoors with some millionaire adventurers. The typical Blazing Saddles' beanie weenies fare is replaced with the likes apricot-glazed Cornish game hens and eggplant caponata. Bryan and Sasha truly are cooking the cowboy way over an open fire pit. Except they don't technically know how to start a fire. Oh boy.
The aspiring pyromaniacs eventually succeed. Man make fire. Fire make food taste good.
Now they've got to deal with "The Hoverer" - a Jeffrey Steingarten-esque glamper who just happens to be a restauranteur/chef (and tells them so approximately 8734832.7 times). His disapproval of any dish is essentially the kiss of death.
Luckily, all the courses satisfy the avid adventurers and off to sleep they go in their air-conditioned tents. Nothing like the wild wilderness!
Finally, the Big City Chefs find themselves cheek to cheek with a Botox bash – because no season premiere in Beverly Hills would be complete without a little facial augmentation. Plus, nothing says yum-o when you can't feel the right side of your face (cue drooling).
This distinguished call of duty goes to blondie Brooke and chef-alicious Stuart. What better candidate for a bunch of Botox-ed cougars with Chardonnay pumping through their blood stream than man candy (with an accent) Stuart!
After a bit of creative differences between the party-thrower, Alexis, and the chefs' trio of soups, the spa party goes on minus the soups - but only if the menu items have relaxing spa names like "Whispering Wave Potato Chip." Here's one: how about "F$%# off filet?"
Nevertheless, the event occurs without a wrinkle (knee slap!) – minus the time that Brooke was told she needed Botox in her forehead.
But … as Brooke so kindly points out: any chef knows that Botox is made from botulism, and botulism is what happens when you leave mayonnaise on the counter for too long.
Well that settles that.
'Til next week, Beverly Hillers, bon appétit!
("Private Chefs of Beverly Hills" airs Fridays at 10 PM on Food Network.)