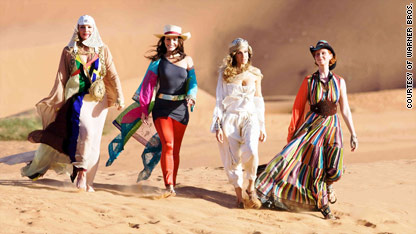 "Sex and the City" fans were expecting the upcoming sequel - based off HBO's hit series - to cover the regular bases: Friendship, fashion, cocktails, romance and, of course, New York.
But moviegoers will also see a few more famous faces. Joining Carrie, Charlotte, Samantha and Miranda is a star-filled cast. Penelope Cruz, Liza Minelli and Miley Cyrus are just a few of the celebs who popped up in the new trailer, recently released online.
The trailer also features "Sex and the City's" leading men, Mr. Big, Steve, Harry and Carrie's former love, Aiden (John Corbett), who was absent from the first film.
Watch the girls as they travel from New York to Abu Dhabi when "Sex and the City 2" makes its way to the big screen May 28.