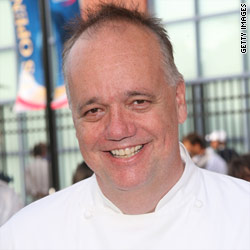 "Top Chef Masters" was such a delicious dish the first time that it's being served up again. Hosted by Kelly Choi, it's the Olympics of cooking competitions, inspired by Bravo's "Top Chef."
That breakout smash hit is one of the best reality shows on television, as it subverts the genre entirely by emphasizing, even celebrating,  talent over drama. Its spinoff, "Top Chef Masters," plays further havoc with reality norms by presenting 22 celebrity chefs at the top of their game, instead of neophytes, up-and-comers, and wannabes.  It's like "American Idol," if Smokey Robinson, Mariah Carey and Bruce Springsteen competed.
That's 22 insanely creative, combustible and colorful culinary captains, each competing for a personal charity and more importantly – bragging rights.
It's an ephemeral prize, but worth its weight in saffron, especially amongst a community that author Anthony Bourdain once compared to pirates.
These are driven, successful people who want to share their passion, skills, and vision with each other, and the world. And oh yeah, to be the Top Chef Master, a title that no doubt buys a lot of celebratory champagne for the winner.
The second season of "Top Chef Masters" debuted last night. The judges are the same: Savuer Magazine Editor-in-Chief James Oseland, legendary food critic Gael Greene and author of "The Man Who Ate The World," Jay Rayner. In future episodes, Top Chef judge and gourmet-next-door Gail Simmons will appear as well. The rules are also the same: Six chefs compete at a time, with two moving on to a special "champion's round." During each preliminary competition, the six chefs compete in a quickfire round. The winners of that get five thousand dollars donated to their favorite charity. The elimination round is worth ten thousand dollars. And of course, the winner of Top Chef Masters gets one hundred thousand dollars donated to his or her charity.
This season's army of kitchen icons is notable for its award-winners, pioneers and rebels, as well as for its diversity. Nearly every race, both genders and all sexual orientations are proudly represented, and then ignored, since the only thing that matters is the food.
If chefs are the new rock stars, then they represent America's complex identity. And speaking of rock stars, the once-indie, now-corporate ageing hipster rock band The Bravery was brought in to judge the first quickfire of "Top Chef Masters" redux.
Last nights, ahem, "cheftestants" were an eclectic bunch. There's former "Top Chef" judge Govind Armstrong, the boss of 8 oz Burger Bar in Los Angeles. Also from L.A. is Susan Feniger who just opened the new restaurant Street. Out of Chicago is Tony Mantuano of Spiaggia, who happens to be President Obama's favorite chef. Jerry Traunfeld is the James Beard-winning chef of Poppy in Seattle. Ana Sortun runs the Eastern Mediterranean restaurant Oleana in Cambridge, Massachusetts. And out of New York comes Jimmy Bradley, chef of local favorite The Red Cat.
First, rules were laid out by a chirpy and inoffensive Kelly Choi, who thankfully lacks Padma Lakshmi's contrived regal-ity. Then, each of the six chefs had to pull colored aprons out of pots. The apron colors matched up, and partners were formed.
Tony and Susan, Gorvind and Jimmy, and Ana and Jerry. The quickfire challenge was a classic from an old "Top Chef" episode: grocery shopping at a gas station. Each duo had to create a dish to be served to The Bravery, who claims they eat out of gas stations all the time, a disingenuous claim from men with such excellent hair.
This is a great challenge, as it forces chefs to focus on technique and creativity in the complete absence of quality ingredients. It's like asking a painter to paint in condiments. Tony and Susan won the challenge with a bread pudding, maple syrup and caramelized bananas, a dish that looked remarkably civilized. Gorvind and Jimmy offered up a hilarious Cheet-o mac and cheese with grilled Slim Jims. Ana and Jerry took a bottle of "Clamato" juice, which is tomato and clam juice, and made a dish of crispy rice cake with "clamesco" sauce. These meals were served to The Bravery.
One of the best "Top Chef Masters" bits is how the chefs are able to watch their judges critique their dishes. Usually, the quickfire judges are celebrities or just regular people. Hardly epicureans. It's hilarious to watch a bunch of egotistical, irascible chefs judge the judges. Watching these good-humored overachievers crack jokes and gently make fun of a band they've never heard of is a pleasant reminder of why the "Top Chef" shows works – the boozy camaraderie between people who live to serve food.
The elimination challenge was simple: each pair was now responsible for making a romantic dinner for thirty diners all on a first date. Of the six, only two will survive to the next round. And those two were… Tony and Susan.
This was a bit of a surprise, if only because their dish was conceptually all over the place. Tony made homemade pasta filled with a powerful cheese and truffles, with a salad. Susan served up black pepper shrimp and scallops and admitted that the shrimp were a little overcooked.
Gorvind and Jimmy seemed to be the frontrunners at first, actually. They made a duo of lamb, with Jimmy rolling out a lamb Carpaccio with an arugula salad. Gorvind cooked a roast lamp chop he suggested should be sensuously eaten by hand, and he served it with cauliflower cous cous. Duck was Ana and Jerry's offering, and Jerry's caramelized duck breast with lavender was the winner. Ana's duck with orange blossom and cinnamon wasn't a failure, but seemed more like comfort food, instead of something romantic.
In the end, after a hilariously upbeat critique from James, Gael and Jay, the judges and the diners awarded Tony and Susan 17 points. Gorvind and Jimmy racked up 12 1/2, while Jerry and Ana earning 15.
Tony and Susan are off to the championship round. The others had to pack their knives.
It was a great start to a great season. There's a lot more food to come – I hope you stick around, and offer up your favorite moments from this season's "Top Chef Masters."