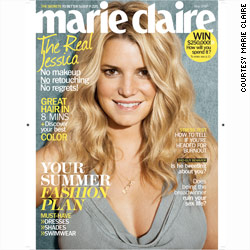 If you haven't tuned in to "The Price of Beauty" on VH1, Jessica Simpson's Marie Claire photo shoot, for the magazine's May issue, will give you an illustrative synopsis.
Simpson will be featured on the cover of the magazine with air-dried hair, no makeup and no retouching.
"I don't have anything to prove anymore," she told Marie Claire. "What other people think of me is not my business."
And while the Internet is abuzz with people praising her for the shoot, others are having a hard time believing there was no makeup or retouching involved.
Last year, Kim Kardashian appeared on the un-retouched cover of Life & Style in a bikini beside the quote, "I have cellulite, so what!"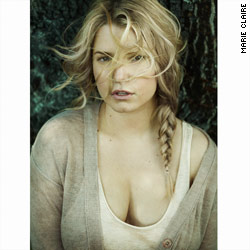 "This is the real me," Kardashian told Life & Style. "I love my body. You should love yours, too."
About seven months later, the reality TV star underwent a "makeunder" for a Glamour magazine photo shoot, but wasn't sans makeup, entirely.
Will the au naturel cover trend stick?
What do you think of Simpson's natural look?