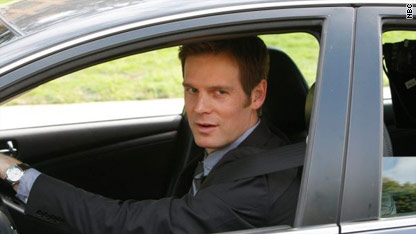 This seemed to be the night for telling secrets on "Parenthood." Little secrets husbands and wives keep from each other, big ones that kids are afraid to tell their parents. Nothing out of the bounds of reality that some late night dramas tend to resort to, but I think they're just as interesting - and much more relate-able. I'm hoping the ratings hold up and the show is picked up for another season.
Kristina and Adam are um, finishing up. He seems a lot more enthused about the morning encounter than she is. She's clearly (to us, anyway) concerned about the kids. Haddie isn't studying, and they're meeting Max's behavior specialist later.
Gabby the specialist arrives, and asks questions about Max's behaviors and what Adam and Kristina would change if they could. I thought maybe they'd be better now that they know what is going on with Max and they've got him in a new school.
But Kristina feels like a failure after Gabby gets Max to do things she couldn't. She later tells Gabby how much she worries about Max and Haddie. She lets it slip how much the worrying affects her sex life with Adam. Apparently she has occasionally faked it, which leads to an awkward conversation between Kristina and Adam. And then he has a really awkward conversation with his sister Sarah about why women fake it.
Overall I think this show has been realistic, but that is a conversation I have not ever had, nor will ever have, with my brother. Ever. But I digress. Another thing I love about this show and these actors is that there haven't been long over-acted speeches, explaining how they feel about things. I can look at Kristina and tell how she feels, watching a stranger have more luck getting her son to complete tasks she couldn't.
Crosby gets the DNA test back, and it confirms Jabbar is his kid. He tries to convince Julia to go with him to tell their parents, but she tells him to grow up and do it himself.
He does make a half-hearted attempt, but Camille and Zeke tease him about the "something important" he has to tell them, assuming he's talking about another new girlfriend. He finally does tell them, in a funny scene where he scares his parents talking about how he's making plans for the future.
At the playgroup, Crosby notices how much Zen mom Raquel appreciates brother-in-law Joel. He goes to talk to Julia about the afternoon and Julia figures there's more than stay-at-home parent bonding going on. Later at home, Joel admits Raquel more than appreciated him.
I knew that chick was trouble; Zen mom tried to put a little emphasis on the "date" part of a play date. Joel says Raquel tried to kiss him and he shut her down, but didn't tell Julia. Julia insists he shut her out of their lives, even though their kids are best friends. Later at another play group gathering, Julia sees the little girls together and thinks better of cutting her daughter off from her best buddy.
That seems much too easy. I wouldn't be forgiving about it. The kids could play together, but Zen mom would have to back up off my husband. What do you think? Would you insist on distance between your spouse and a too touchy-feely parent even if it meant your kid could spend less time with a friend?
Do you think the show is good as is, or does it need a little melodrama to make it more interesting? Let us know what you think!